Gerukamukh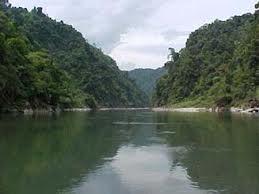 Popular for natural beauty Gerukamukh is situted just 45 Km from district headquater of Dhemaji district. It is a popular picnic spot where Subansiri the largest tributary of Brahmaputra touches the plains from the hills giving a scenic beauty with its virginity.
The Subansiri is the second largest river in Assam. After flowing for 190 km through Tibet, it enters India. It continues its journey through the Himalaya of India for 200 km and enters into the plains of Assam through a gorge near Gerukamukh. In the 10 km reach from the foothills near Gerukamukh to Chauldhoaghat, the riverbed is composed of sand mixed with pebbles and boulders.

Covered with thick and dense forests it is offering an ideal site for nature lovers and adventure enthusiasts. For this scenic beauty during winter large numbers of tourist visit this place. Many peoples do angling and fishing as the condition is favourable for angling. Gerukamukh is one of the best picnic spot in Assam.

The government of Assam in association with National Hydro Electric Power Corporation (NHPC) is implementing a Mega Hydro Electric Power Project, to meet the energy needs of the adjoining districts. The Subansiri Lower Dam officially named Lower Subansiri Hydroelectric Power Project (LSHEP), is an under construction gravity dam on the Subansiri River. It is located 2.3 km upstream of Gerukamukh village on the border of Assam and Arunachal Pradesh states. Described as a run-of-the-river power station by NHPC Limited, the dam is expected to supply a 2,000 MW power station with water when completed. It is expected to be complete in 2014. It is notable that, if completed as planned, it will be the largest hydroelectric project in India. The project has experienced several problems during construction to include landslides, re-design and opposition. Some environmental imacts unique to very large dams will result from completion of the Subansiri Project, both upstream and downstream of the dam site.

There is a Kendriya Vidyalaya in Gerukamukh. The contact details is :

Kendriya Vidyalaya, NHPC Gerukamukh
Post: Gerukamukh
Distt: Dhemaji
State: Assam
Pin : 787 035

Phone Numbers of Kendriya Vidyalaya Gerukamukh

Office: +91-3752-269209 (principal)
Fax: +91-3752-269-209
Office extesion no: +91-3752-269222/2335/2662
Residence extension no: +91-3752-269222/2336

How To Reach Gerukamukh Dhemaji :
Gerukamukh is near about 44 kms from the district headquarter of Dhemaji district. Regular communication is available from Dhemaji, Lakhimpur and Guwahati. There is day and night service bus service from Guwahati to Dhemaji.

Where To Stay In Gerukamukh Dhemaji :
There are various hotels and guest houses in Dhemaji town. One can stay in Dhemaji and easily reach Gerukamukh. To know more about Dhemaji click here.