Katakhal Rail Cum Road Bridge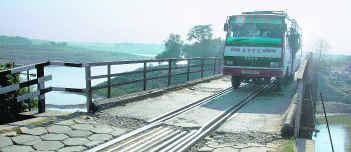 Situated in National Highway No. 44 Badarpur, near Silchar town in Cachar district of Assam this is a very historic bridge which is India'a Lone rail-cum-road bridge. When functional, it used to be a very congested narrow bridge with all sorts of vehicles & train using it on the same level. Being very weak, the usage of this bridge today is just restricted to pedestrians, two-wheelers, etc.
The bridge, built during the British days, across the Katakhal river, connects the Katakhal and Salchapra stations on the Badarpur-Silchar railway section of Northeast Frontier Railway(NFR) in Asom. This is one of the only two active rail-cum-road bridges in the world. The Katakhal bridge connects Shillong to Silchar in Assam, Aizawl in Mizoram and Agartala in Tripura.

This is a unique bridge as it doubles up as the national highway. Road transport is blocked at level crossings at both ends to allow passage of trains. Unlike other bridges,it is not a crossing but both railway tracks and the road is the same on the bridge. Generally in all other bridges or crossings, either of these cross the other's way but not here. It is also not a double decker bridge. Here the railway tracks are on the bridge. So when a train approaches, vehicular traffic is stopped.

The national highway connecting Guwahati and Silchar runs through the bridge, which ensures that traffic flows unabated. The only other such rail-cum-road bridge in the country was in Punjab's Feorzpur district which is also no longer in use now.

The N.F. Railways constructed a broad-gauge Railway Bridge in Katakhal. The old Katakhal Rail Cum Road Bridge has metre-gauge tracks & is used for metre-gauge trains.