Mahamaya Temple Or Mahamaya Than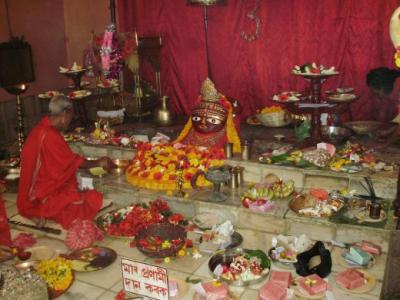 Mahamaya temple also known as Mahamaya Than in Western Assam - Dhubri District is one of the oldest shakti peeth temple in the region. Situated in Bogribari, which is almost 35 km east from Dhubri town and 10 km west from Bilasipara town, is one of the greatest Shakti Peethas among Hindu pilgrims in Lower Assam and in attraction it is next to Kamakhya (Guwahati) and Madan-Mohan (Cooch Behar) among the pilgrims and tourists.
In old age it was originally worshipped the famous Goddess Mahamaya, which is presiding deity of the Zamindar of Parvatjowar by the Kacharis,Koches and Nath peoples. In later stage the Goddess received widespread acceptance and popularity. Now all of the Hindus of western Assam worship Goddess Mahamaya. Like all other Hindu Shakti peeth this temple has a 400 years old Hindu tradition of animal sacrifice especially at the time of Durga Puja. Animals like birds, like buffaloes, goats, pigeons and ducks are slaughtered.

The priests perform the regular worship for the deity every day along with other rituals for the day. Every year a Shakti Yagna is performed during the month of January-February, where thousands of devotees from all over the state and neighboring places come to take part in the Yagna.

It is believed that after the former temple got destroyed due to natural calamities, the Goddess one day came into the dreams of a person and told him to construct the temple and worship her. The person then developed this temple and made further developments in it. The temple is adorned with idols of different deities like the tallest idol of Goddess Kali, a tall idol of Hanuman and many other structures of the temple are built with time.

Another temple Mahamaya Snaanghat Temple which is situated situated few kilometers away from the main Mahamaya temple. Locals believed that this the place where goddess Mahamaya used to take bath in ancient times and due to this the temple named Snaanghat Temple.

How to reach Mahamaya Temple in Dhubri District, click here
Photos of Mahamaya Temple Or Mahamaya Than

Mahamaya Temple...

Mahamaya Temple...

Mahamaya Temple...

Mahamaya Temple...