Amchang Wildlife Sanctuary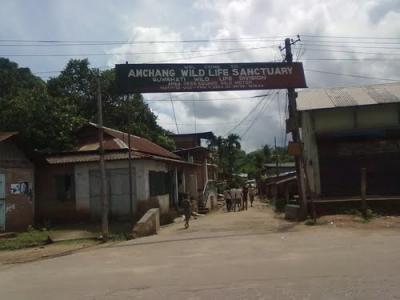 Covering with 78.64 sq. km. Amchang Wildlife Sanctuary is situated at Guwahati city in the state of Assam. This small sanctuary is rich in mammals and birds. This is one of the worth visiting places in the city. This article will provide all the necessary information about the sanctuary.
Amchang was declared as a wildlife sanctuary on 19th June, 2004 by the government of Assam. Amchang Wildlife Sanctuary is located in the extreme east of the Guwahati city in the state of Assam. The is a perfect place for the Guwahati visitors to refresh themselves in touch with the nature. It is 15 km away from Guwahati Railway Station. The sanctuary falls under East-Kamrup Forest division of kamrup district.

Amchang wildlife sanctuary is famous for rare and endangered animals and birds. The most commonly found species of mammals are – Chinese pangolin, Flying fox, Slow loris, Assamese macaque, Rhesus macaque, Capped langur, Hoolock gibbon, Jungle cat, Leopard cat, Leopard, Elephant, Wild pig, Sambar , Barking deer, Gaur, Porcupine etc.
Tree yellow butterflies (gancana harina) are found at the Amchang wildlife sanctuary. Tree yellow butterflies are indigenous to Thailand, Malayasia, Singapore and northeast India. Assam is home to more than 750 species of butterflies and 360 species of moths.

Birds : Lesser Adjutant, Greater Adjutant, White-backed Vulture, Slender-billed Vulture, Khaleej Pheasant Green Imperial Pigeon, Lesser Pied Hornbill etc.

Reptiles : Python, Monitor Lizard, Indian Cobra etc.

Due to continuous extension of city limits, the natural resources of this wildlife sanctuary is coming under tremendous pressure from man & machines alike. In a bid to conserve this forest landmass, it is of utmost importance that the people of Guwahati become aware of this wildlife sanctuary & extend valuable support in the efforts of Assam Forest Department & other government bodies along with local non-governmental organizations in safeguarding this natural heritage.

Best time to visit Amchang Wildlife Sanctuary : The ideal time to visit Amchang wild life sanctuary is October to April.

How to reach Amchang Wildlife Sanctuary : From Guwahati LGBI Airport it is 40 Kms. away and from Guwahati Railway Station it is only 15 Kms. away.

Where to stay in Amchang Wildlife Sanctuary : All kinds of accommodations are available in Guwahati city. Adjacent to the southern boundary of the Sanctuary at Tepesia, Kamarkuchi, there is the Brahmaputra Jungle Resort (with Cottages, Tents, Deluxe Rooms), Tel.- +91-361-2160584.

Whom to contact for visit Amchang Wildlife Sanctuary : Divisional Forest Officer, Guwahati Wildlife Division, AT. Road, Santipur, Guwahati -781009, Tel.- +91-361-2656771/ Mob : +91-94350 31789.
To know more about Guwahati, please click here.
Photos of Amchang Wildlife Sanctuary

Tree yellow but...

Private resorts...

Department of E...

Dense forest of...