Nambor Wildlife Sanctuary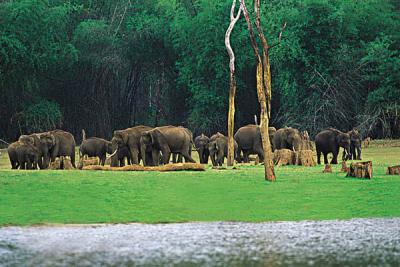 The Nambor Wildlife Sanctuary covers an area of 37 sq. kms. Situated in Karbi Anglong Autonomous District Council, it is 25 kms away from Golaghat and 65 kms from the Kaziranga National Park. This Himalayan forests covered with tropical forests and the vast low-lying plains. The Govt. of Assam recognised Nambor Wildlife Sanctuary as a sanctuary in 27 July 2000. The average annual rainfall of Nambor Wildlife Sanctuary is 120 cm. and temperature is max - 300 C min - 70 C.
Situated amidst an oasis of idyllic green and dotted by sylvan water bodies that glitter like a mirage of quicksilver, Nambor Wildlife Sanctuary is a moderately sized sanctuary that stretches across an expanse of 37 sq. km. The sanctuary is a haven for wild animals like the regal elephants and the majestic predatory Royal Bengal Tigers, the country's national animal.

Nambor Wildlife Sanctuary is also an ornithologist and a bird lover's dream destination. The sanctuary houses numerous varieties of exotic and variegated migratory as well as domestic birds. Entomologists too have a gala time studying the varieties of insects, butterflies and moths that flitter about the sanctuary's premises.

The sanctuary is well known for its verdant floral wealth. Some of the important timber species found here are Bhelu, Gomari, Ajar, Nahor, Udiyam, Poma, Bon Som etc. The forest also has abundant growth of orchids, ferns, & other climbers.

Some of the mammals found in this sanctuary are Elephants, Leopards, Tigers, Deer, Golden Languor, Hoolock Gibbons, Sambar, Gaur (Indian Bison), Barking Deer, Ant Eater, Hares, Flying Squirrel, Mongoose, Barking Deer, Tiger Civet Cat, Slow Loris, Hog Deer, Wild Pig, Civet Cat, Porcupine, Jackal, Otter, Sloth Bear, Himalayan Black Bear, Honey Bear, Swamp Deer, Wild Dog, Bat, Hoolock Monkey etc.

This wildlife sanctuary is an important habitat for many different species of birds. This Sanctuary is rich in terrestrial woodland birds. Some other birds most commonly seen in this sanctuary are Great pied Hornbill, Hill myna, Imperial Pigeon, Green Pigeon, Jungle Fowl, Pheasant, Quall, Whistling Teal, Cotton Teal, Plover, Hawk, Magpies, Parrot, Horn Bill, Racket Tailed Drone, Rock Dove, King Crow etc. Some rare species of orchids are also found here.

Best Time To Visit Nambor Wildlife Sanctuary : November to April is the best time to visit this sanctuary.

How to reach Nambor Wildlife Sanctuary : From Dimapur Airport it is only 55 kms. and from Jorhat Airport it is 85 kms. away. The road distances from nearest Towns are - Golaghat -35 kms., Diphu -92 kms., Guwahati - 330 kms. and Kohora (Kaziranga N.P) is 70 kms. away.

Where to stay in Nambor Wildlife Sanctuary : Aranya Lodge, Tel.- 03776-262429, Bonani, Banashree, Kunjobon Lodges, Tel.- 03776-262423, all under Assam Tourism and located at Kohora, Prasanti Tourist Lodge (Assam Tourism) at Golaghat, Tel.- 03774-280730, Nambor Guest House, Hospital Road, Golaghat, Tel.-03774-280900, Fax - 03774-281066 and many other Hotels in Golahat.

Whom to contact for visit Nambor Wildlife Sanctuary :
1) Divisional Forest Officer, Karbi Anglong East Division, Diphu, Tel.- +91-3671-272237/273303.

2) Divisional Forest Officer, Golaghat Division, Junakinagar, Golaghat, Tel.- +91-3774/284798/284997.

3) Forest Range Officer, Golaghat Range, Salmora, P.O. Golaghat, Tel.- +91-3774-280544.

Temperature in Nambor Wildlife Sanctuary : This area is in the tropical basin of India and as a result of that the temperatures are never too high or low; with a very heavy monsoon. The max/min temperature is 8 to 30oC. Annual rainfall is 2500 mm.

Safari Timings to visit Nambor Wildlife Sanctuary : The best time to enjoy sanctuary is 0600 to 0900 hrs and 1500 to 1700 hrs.