Kareng Ghar (gargaon)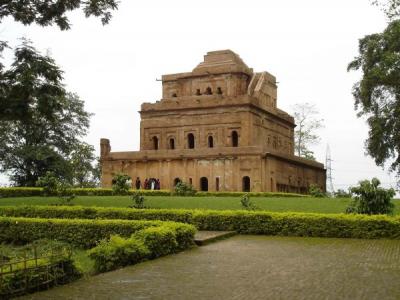 Kareng Ghar is Situated at (Garhgaon) Gargaon which is around 15 kms away from Sivasagar Town. 'Kareng Ghar' is a Royal House of the Tai-Ahom kings, the third capital of the Tai-Ahoms. Gargaon was founded by Ahom king Siuklenmung @ Gargayan Raja son of king Siuhungmung sometimes in A.D. 1539-43. 'Gargaon' means a city of ramparts. The city of Gargaon is surrounded with several ramparts such as Nimanagarah, Bahgarh, etc. Gargaon is known to the Tai-Ahoms as -'Che-hung' means a city surrounded with ramparts.
According to Tai-Ahom Buranjis (histories), king Siuklengmung as per advice of his principal queen Chaoching (a princess from Nora kingdom) made this city after Cheregua, the second capital of the Tai-Ahoms. The old name of this region was Hemenabari, i.e., a compound of one noble Hemena. Regarding city of Gargaon a beautiful description had been depicted by Mughal scribe Sahabuddin Talish in A.D. mid 17th century also by British Capt. Welsh. The city of Gargaon was raided by Koch General Chilarai and Mughal Nabab Mirzumla in A.D. 1562 and A.D. 1662 respectively during the reign of Tai-Ahom kings Siukhampha and Jaydhvajsimha. Again during Moamoriya trouble the capital was damaged by them. The capital Gargaon was abundoned by the Tai-Ahoms for a new capital at Rangpur by king Rudrasimha in A.D. 1704.

This is a seven-story structure. While the three floors that are under the ground are called the Talatal Ghar, the rest of the floors above the ground level are referred to as the Kareng Ghar. There are two secret tunnels in the Talatal Ghar. The Kareng Ghar & Talatal Ghar of Assam is located very close to the Sibasagar town. This historical town was the capital of the powerful rulers of the famous Ahom dynasty. They ruled this region from here for a span of about six hundred years. Their rule came to an end after the advent of the British in India.


How to reach : It is just 30 minitues drive from Sivasagar town towards Nazira town. It is located on the way. Local buses and one can hire taxis to Garhgaon from Sivasagar town.

To know more about Sivasagar please click here.
Photos of Kareng Ghar (gargaon)

Inside Kareng G...

Garh surroundin...

Kareng Ghar, Ga...