Manas National Park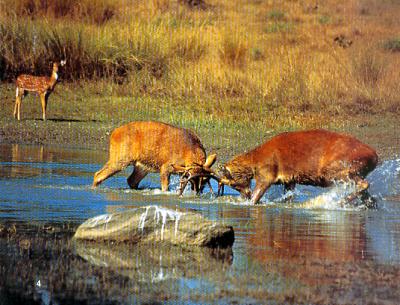 Lying on the foothills of the Himalaya, Manas is the most stunning pristine wildlife habitat in India, comparable to the best in the world in the beauty of its spectacular landscape. It is also a UNESCO Natural World Heritage (in danger) site, a Project Tiger Reserve, an Elephant Reserve and a Biosphere Reserve - a unique distinction. This Brahmaputra Valley semi-evergreen forest Terrestrial Eco-region is also the richest in species of all Indian wildlife areas and the only known home for the rare and endangered Assam Roofed Turtle, Hispid Hare, Golden Langur and Pygmy Hog. The sanctuary is home to a great variety of wildlife, including tiger, Golden Langur, Wild Buffalo, Hispid Hare, Pigmy Hog, Capped Langur, Indian one-horned Rhinoceros, Elephant, Gaur, Hog Deer, etc.
The Manas National Park was declared a sanctuary on October 1, 1928 with an area of 360 sq.km. Manas Tiger reserve was created in 1973. Prior to the declaration of the sanctuary it was a Reserved Forest called Manas R.F. and North Kamrup R.F. It was used by the Cooch Behar royal family and Raja of Gauripur as a hunting reserve. In 1951 and 1955 the area was increased to 391 sq.km. It was declared a World Heritage site in December 1985 by UNESCO. Kahitama R.F. the Kokilabari R.F. and the Panbari R.F. were added in the year 1990 to form the Manas National Park. In 1992, UNESCO declared it as a world heritage site in danger due to heavy poaching and terrorist activities. In 25 February 2008 the area was increased to 950 sq.km.

The park is divided into three ranges. The western range is based at Panbari, the central at Bansbari near Barpeta Road, and the eastern at Bhuiyapara near Pathsala. The ranges are not well connected; while two major rivers need to be forded in going from the centre to the Panbari, there is a rough trail (the daimAri road) connecting the central to the eastern range. Most visitors come to Bansbari and then spend some time inside the forest at Mathanguri on the Manas river at the Bhutan border.

There are two major biomes present in Manas:

A) The grassland biome : pygmy hog, Indian rhinoceros (re-introduced in 2007 after extinction due to heavy poaching during the Bodo uprising), bengal florican, wild Asian buffalo, etc.

B) The forest biome : slow loris, capped langur, wild pig, sambar, great hornbill, Malayan giant squirrel or black giant squirrel, etc.

The Park's common trees include Aphanamixis polystachya, Anthocephalus chinensis, Syzygium cumini, S. formosum, S. oblatum, Bauhinia purpurea, Mallotus philippensis, Cinnamomum tamala, Actinodaphne obvata, Bombax ceiba, Sterculia villosa, Dillenia indica, D. pentagyna, Careya arborea, Lagerstroemia parviflora, L.speciosa, Terminalia bellirica, T. chebula, Trewia polycarpa, Gmelina arborea, Oroxylum indicum and Bridelia spp. The Grasslands are dominated by Imperata cylindrica, Saccharum naranga, Phragmites karka, Arundo donax, Dillenia pentagyna, Phyllanthus emblica, Bombax ceiba, and species of Clerodendrum, Leea, Grewia, Premna and Mussaenda


The sanctuary has recorded 55 species of mammals, 380 species of birds, 50 of reptiles, and 3 species of amphibians. Out of these wildlife, 21 mammals are India's Schedule I mammals and 31 of them are threatened.

The fauna of the sanctuary include Asian Elephants, Indian Rhinoceros, Gaurs, Asian Water Buffaloes, Barasingha, Tigers, Leopards, Clouded Leopards, Asian golden cat, Capped Langurs, Golden Langurs, Assamese Macaques, Slow Loris, Hoolock Gibbons, Smooth-coated Otters, Sloth Bears, Barking Deer, Hog Deer, Sambar Deer and Chital.

The park is well known for its rare and endangered wildlife which is not found anywhere else in the world like the Assam Roofed Turtle, Hispid Hare, Golden Langur and Pygmy Hog.

Manas houses about 380 species of birds. Manas have the largest population of endangered Bengal Florican. The major other birds includes Giant Hornbills, Jungle Fowls, Bulbuls, Brahminy Ducks, Kalij Pheasants, Egrets, Pelicans, Fishing Eagles, Serpent Eagles, Falcons, Scarlet Minivets, Bee-Eaters, Magpie Robins, Pied Hornbills, Grey Hornbills, Mergansers, Harriers, Ospreys and Herons.

The park area falls in five districts: Kokrajhar, Chirang, Buxa, Udalguri, and Darrang in the state of Assam in India. The park headquarters are located at Barpeta road and the necessary clearances and permits should all be arranged from here before venturing further to the park.

The minimum temperature is around 15 degree C and maximum temperature is around 37 degree C.

The best time to visit the park is between November and February. A majority of the year, the climatic conditions are not really suitable for visits due to the excessively heavy rainfall.

How to reach :

Manas is well connected by all means of transport. It is 176 Kms from Guwahati by road. Nearest railway station is Barpeta road railway station it is 41 Kms from Manas and nearest airport is Lokapriya Gopinath Bordoloi International Airport at Guwahati.

Whom to contact for visit:

A) Field Director, Manas Tiger Reserve,
Barpeta Road -781315,
Phone - +91-3666-261413(0)/260288(R)/260289(Control Room), Fax : +91-3666-261413,
E-mail : abhijitrabha@hotmail.com

B) Dy. Field Director, Manas Tiger Reserve,
Barpeta Road -781315,
Phone - +91-3666-260289 (Control Room), 260338 (R)

Website : www.manasassam.org

Where to stay :
For a stay right in the heart of the jungle, there are two bungalows in Mathanguri. It is advised that you make early bookings for these bungalows as they are a favorite staying option for many tourists. There is no catering service in the bungalow and you will have make arrangements for yourself.

A) Director, Manas National Park
Phone : +91-3666-261413 (O)
+91-3666-260288

B) The Bansbari Lodge
Phone: +91 361 2602223/2602186,99542 05360,
E-mail: assambengal@rediffmail.com

C) Blue Hills Resort
Phone: +91 361 2543059/2547911

D) Forest Rest Houses at Bansbari and Mathanguri
Contact -Director or Deputy Director, Manas Tiger Reserve

E) Cottages at Kokilabari (contact -Secretary/President, MMES. Kokilabari).

There are many more places to stay on the outskirts of Manas National Park on Barpeta Road.
Photos of Manas National Park

Manas National ...

Manas National ...

Manas National ...

Elephant safari...

Manas National ...

More Photos