The Bogibeel Bridge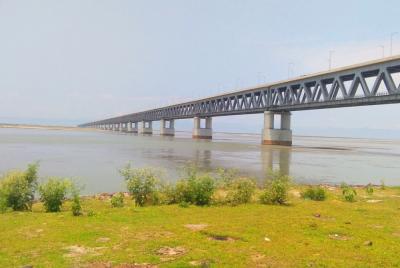 Almost all the major constructions are done in Assam till today, are especially the results of such great movements. Here one significant is Bogibeel Bridge, which could be considered as the result of historical Assam movement and the Assam accord after that.
With the length of 4.94 km, this is the longest railroad bridge in India and also the 2nd longest railroad bridge in Asia.
It is connecting Lakhimpur, Dhemaji and Dibrugarh district together. Before the construction completed, it took so long to go from Dibrugarh to Dhemaji, because there were no roadways over the Brahmaputra River at that time. But after it completed, the reaching duration between these two places decreased to less than half an hour.
The early construction of Bogibeel Bridge started in 2002; at that time India's prime minister Atal Bihari Vajpayee ceremonially started it. But later due to some political issues it did not complete within a short period of time.
In 2018's December month the construction completed and on the same month's 25th, India's honorable Prime Minister Mr.Narendra Modi inaugurated it with a warm celebration.
Built with 'Orosudu Bridge' (Orosudu is a bridge of Europe, connecting Denmark and Sweden) method, Bogibeel is one of the strongest bridges in India. According to some geologist, 7 Richter scale earthquakes can't even make any damage to it.
On the other hand, national security analyzers' trying to find out security benefits of it, According to them this Bridge is also able to work as an aircraft carrier. In that case in the future, if war happens against China then this Bridge will provide great support to Indian army in the strategic sector.
However, the primary benefits of this pool are getting the general people here. After it creates a connection between upper and lower Assam, business, job, and other work has become much easier than before. It is hoped that Bogibeel will write a new chapter of development in Assam state.
After the construction completed, there were a lot of controversies raised in Assam on its naming. Where some people demanded it to name by 'Virangana Sati Sadhini' and 'Miri Jiori Setu' on the other hand some people demanded it to name by 'Bhimbaar Deori Setu' and 'Chaolung Sukaphaa Setu'.
However, all these controversies ended with a very smart decision; the government did not name it with any other name and left it out as 'Bogibeel Bridge'.
How to reach Bogibeel Bridge :
There is no direct railway station to Bogibeel Bridge. The nearest one is Dibrugarh town station and 2nd is Lapetkota station. From these two places, you will directly get busses and wingers. Nearest airport is - Mohanbari Airport in Dibrugarh
Best time to visit
Bogibeel Bridge :
November to January month for a picnic party.
By : Akash Gogoi