Srimanta Sankaradeva Kalakshetra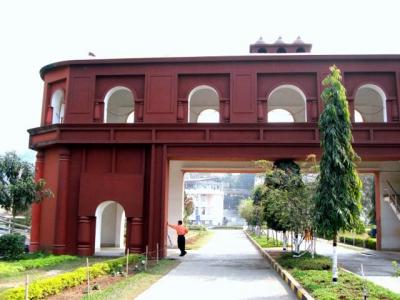 The Srimanta Sankardeva Kalakshetra in Guwahati derives its name from the saint Srimanta Sankardeva who was a follower of the Vaishnava religion. Srimanta Sankardev Cultural Centre or Sankardev Kalakshetra, is a nonprofit cultural organization in memory of Mahapurusha Srimanta Sankardeva and his contribution towards spiritual and cultural upliftment of Assam and its people. The Kalakshetra (Cultural Centre), houses number of structures and buildings abiding with the ethnic Assamese designs. A replica of the Rang Ghar (an Ahom Amphitheatre in Sivasagar district of Assam). It is situated in the locality of Panjabari, in the satellite township of 6th Mile, about 10 km from the city centre of Guwahati, the gateway to the North East of India.
The Srimanta Sankaradeva Kalakshetra has been conceived as a grand exposition of the life and culture of the people of Assam, of its diverse ethnic groups and sub-groups who have created the cultural mosaic which is the essence of the State, in all its beauty and splendour. Named after the great unifier of Assam and one of the greatest integrators of the Indian society of the fifteenth century, Srimanta Sankaradeva, the Kalakshetra attempts to capture and convey the essence of the great seer's spirit, who preached the message of unity in diversity, sang the song of glorious Bharata-Varsha and the universal brotherhood of man. The institution attempts for the preservation, restoration, research, promotion and development of the rich cultural heritage of the diverse ethnic communities inhabiting Assam.

The main attraction in the kalashetra is Central Museum.The Central Museum preserves some of the traditional articles, or artifacts of Assamese culture. The Kalakshetra Built in 1990 by the artistic excellence of Assam and rest of the north-eastern region is displayed here. It includes an art gallery, a children's park and The museum.
Address :

Srimanta Sankaradeva Kalakshetra
Panjabari, Guwahati, Assam (India)
Pin- 781037
Phone No: +91-361-2332665
Fax No : +91-361-2330269 (Tele fax)
Email : kalakshetra@rediffmail.com