Hayagriva Madhab Mandir - Hajo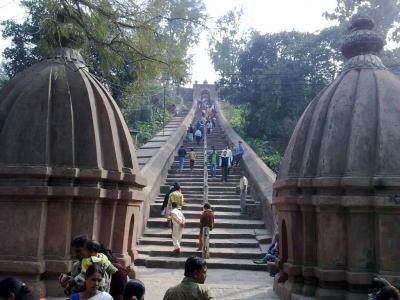 Hayagriva Madhab Mandir (Mandir means temple in Assamese) was constructed in 6th century AD by King of Pala dynasty on Manikuta Hill which is 24 km from Guwahati in Kamrup district in present days. It is a popular tourist destination in Assam. Some Buddhists believe that the in Hayagriva Mahhava temple the Buddha attained Nirvana. Thus it becomes an ancient pilgrimage centre for two religions Hindus amd Buddhists.
The present day temple structure was built by the Koch King Raghudeva Narayan in 1583 after it was destroyed by an invading army. It is made of stone in an octagonal shape which is about 30-feet in diameter and crowned with a pyramidal roof, it houses the images of Hayagriva Madhab, the presiding deity is worshipped as the Man Lion incarnation of Vishnu by the Hindus. he rows of elephants are seen on the body of the temple and they are fine specimens of Assamese art. All around of the temple are numerous loose sculptures. Most of these sculptures stand testimony to the sculptural finesse attained by the artisans of Assam.

The stairway leads from the foot of the hill to a gateway that opens to the temple complex. There is a beautiful Pool in front of the temple called Madhab Mandir pool. There are many Tortoise and verities Fishes in the pool. Doul ,Bihu and Janmastami festivals are celebrated every year in the temple. This temple preaches both Hinduism and Buddhism, which attract Buddhist Monks from far flung places. Sayani, the first wife of Kalia Bhomora Borphukan donated a family of paiks and also a plot of land for their maintenance to the Hayagriva Madhava temple during the reign of Ahom king Kamaleswar Singha.

Another structure adjacent to the main temple is called Doul Griha. It is said to have been built by the Ahom king Pramata Singha in 1750 AD. The festival Doul, similar to the colourful festival of Holi, is celebrated here on a grand scale every year.

Though Hayagriva Madhab is the most popular, Hajo has a number of other temples dating back to the 18th century. Ganesh Temple, built on a giant, elephant-shaped rock is also called Deva Bhavana and is traditionally the meeting place of all the deities of the region.

How to Rich Hayagriva Madhava Temple

By Air: The nearest airport is Guwahati.

By Rail: The nearest railhead is situated at Guwahati.

By Road: Guwahati is well connected with regular bus services from all the major cities in and around the state.wahati is well connected with regular bus services from all the major cities in and around the state.