Powa Mecca - Hajo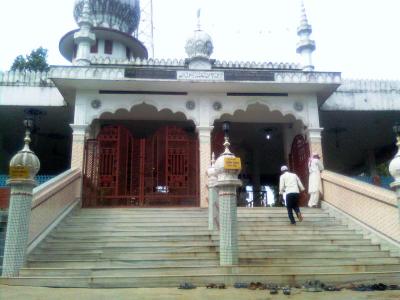 Powa Mecca means the one fourth of original Mecca (1/4 is known as Powa in Assamese), which is an Islamic holy place in Saudi Arabia. Powa Mecca in Hajo which lies on the banks of the Brahmaputra River and 24 km from Guwahati in Kamrup district is a very popular and famous pilgrimage spot for Muslims.
Powa Mecca is thought to have some of the sanctity of Mecca. It is said that Powa Mecca was constructed from the soil that was brought from the city of Mecca itself. So its become Powa Mecca. It is located in top of the Garurachal Hill, just adjacent to the Madhava Temple. It is noted as the tomb of Pir Giasuddin Auliya, who was the pioneer of Islam in this part of the world. This mosque was built by Sujauddin Mohammed Shah in 1657 AD, during the reign of the renowned Mughal Emperor, Shahjahan.

It is widely belief that a visit to Powa Mecca in Hajo confers one-fourth of the merits that one can obtain from a pilgrimage to Mecca itself so Muslims devotees all over Assam coming to this place all round the year. Aprt from Muslims Hindu pilgrims of the region also visit the shrine, especially on the full moon day of the month of Jaistha. This makes Hajo an important tourist spot of Assam.

How to Rich Powa Mecca - Hajo

By Air: The nearest airport is Guwahati.

By Rail: The nearest railhead is situated at Guwahati.

By Road: Guwahati is well connected with regular bus services from all the major cities in and around the state.
Photos of Powa Mecca - Hajo

Powa Mecca - Ha...

Powa Mecca - Ha...

Powa Mecca - Ha...

Powa Mecca - Ha...