Umananda Temple - Guwahati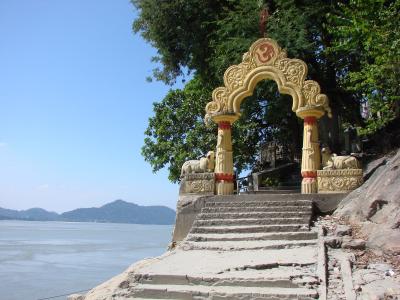 Located in between the mighty river the Brahmputra in a Peacock island, Umananda Temple is just opposite side of the famous Kachari Ghat in Guwahati, Assam. This shiv temple was was built by the famous Ahom King Gadadhar Singha (1681 - 1696), who was was the husband of Sati Joymati a great devout of Shaivite. The original temple was however immensely damaged by a devastating earthquake of 1897. Later, it was reconstructed by a rich local merchant who chose to inscribe the interior part of a Siva temple with Vaisnavite slogans.
In Assamese Uma means Hindu goddess Parvati, the wife of Shiva; and ananda means happiness which is also known as smallest inhabited riverine island in the world. This is one of the mostly visited temple in Assam which is devoted to Lord Shiva.

According to the ancient Hindu texts Kalika Purana, lord Siva is said to have resided here in the form of Bhayananda. In the beginning of the creation Siva sprinkled ashes (bhasma) at this place and imparted knowledge to Parvati (his consort). It is said that, when Siva was in meditation on this hillock, Kamadeva interrupted his yoga and was therefore burnt to ashes by the fire of Siva's anger and hence the hillock got the name Bhasmacala.

This mountain is also called Bhasmakuta. The Kalika Purana states that Urvasikunda is situated here and here resides the goddess Urvasi who brings Amrit (nectar) for the enjoyment of Kamakhya and hence the island got the name Urvasi Island. It is believed that, worship here on the Amavasya day when it falls on Monday brings the highest bliss. The Siva Chaturdasi is the most colourful festival that is held here annually. Many devotees come to the temple on this occasion for the worship of the deity. Maha Shivaratri is widely celebrated in Umananda. Monday is considered to be the holiest day in the temple.

To reach the umananda temple , one has to cross the river in a boat. It can be reach from Guwahati and North Guwahati by ferries and steamers. These boat service is available from the Kachari ghat. There is also a ferry service that is available from 7 am in the morning to 5 pm in the evening. One can hire a ferry from Sukleshwar ghat or Fancy Bazar Ghat. During the Hindu festival of Shivaratri, every year the devotees from all parts of Assam and other parts of India come to this place. This is also a home to some golden langur.
Photos of Umananda Temple - Guwahati

Umananda Temple...

Ferry carrying ...

Umananda Temple...

Umananda Temple...