Jagiroad Dry Fish Market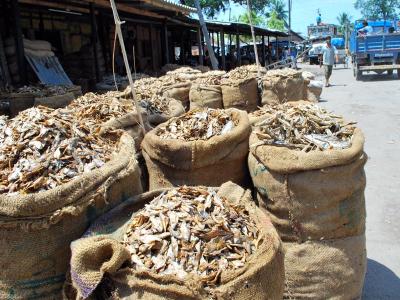 Situated just 50 km from state capital Guwahati towards eastern side of assam, Jagiroad is a small industrial town of Morigaon District. Previously it was in undivided Nagaon district. Marigaon became a fully-fledged district on 29 September 1989, when it was split from Nagaon district.
Jagiroad is popular for its Asia's largest dry fish market and the Nagaon Paper Mill. The dry fish market is the largest dry fish market in Asia. This dry fish market is functioning in the industrial town where transactions worth about Rs 40 crore take place every year.

The origin of this market can be traced back to the early sixties. In the late 1940s, there used to be a Sunday market in Silchar. People from places like Shillong and Karimganj used to go to the market. However during the Indo-Pak partition a big market in Dacca closed down. As a result, the market in Silchar was also affected. Some traders from Karimganj came to Jagiroad to check the feasibility of setting up a market in Jagiroad which was well connected by train and road. They started a Sunday market here somewhere around the early 1940s and after partition, sea fish also started to be brought here. In the beginning this market was created for local needs. Slowly slowly neighbouring states like Meghalaya, Nagaland, Tripura and Manipur entered the market and Jagiroad became an important dry fish trading centre of the North-East. Geographically this market is not too big approximately having total numbers of 100 shops operated by Mahaldars with less than a kilometer in length. But this is aplace is where the maximum transactions of dry fish in Asia take place.

Fish from all over India comes to this market. Siliguri in West Bengal, Porbandar in Gujarat, Lucknow and Gorakhpur in Uttar Pradesh and Teliamura in Tripura. Sea fish comes from West Bengal and Gujarat. The market generally operates 3 days - Thursday to Saturday. More or less 1,500 people are associated with this trade. Apart from Sikkim, dry fish from the market goes to all the Northeastern states. Some of the dry fish are exported to Singapore, Bhutan, Malaysia and other Southeast Asian countries. 1000-1200 trucks come to the market every year. 70 per cent sales happen during the peak season and 30 per cent sales happen during the off season. The price of fish varies according to size and quality. Sea fish and freshwater fish like Bamla, Puthi, Misa range from Rs 7 to Rs 110 per kilogram. Retail sale does not happen here and a minimum of one sack has to be bought by a customer.

This market situated near new Jagiroad Railway Station which is well connected by rail and National Highway no 37. The famous dry fish trade is controlled by the Jagiroad Dry Fish Merchant's Association. The association has to pay a substantial amount of money as taxes. The association also donates, parts of its profits to schools, colleges, organisations and sports activities.