Tinsukia Deuhal Aai Than Mondir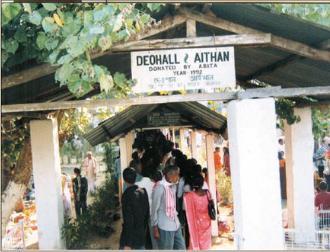 Situated at the bank of river Tingrai and just 1 KM from the National Highway No 37, the famous Deuhal aai than was constructed by ahom king Chalung Gadadhar Singha. During the british rule in assam, James Waren opened the Deuhaal tea garden near that Deuhal aai than.
This place is fully devoted to hindu goddess Maa Durga. According to great assamese scholar Dr. Maheswar Neog, he wrote in his book Pavitra Assam that ahom kings kept an Idol of Maa Durga. From that time onwards in Maghi Purnima ( The full moon day of Magha (January-February)) to honor of the goddess Durga peoples are perform bali or animal sacrifice at this sacred juncture. Many buffaloes, goats, pigeons are sacrificed in front of the goddess Durga. But now a days not all the animals are sacrificed. Instead of that priest keeps the animals in temple premises. The Deuhal aai than witnessed large numbers of devotees during the Maghi purnima.

Peoples are coming to this aaithan throughout the year. During the months of October-November which is the end of harvesting season in assam, near by peoples are get together and have feast known as No khuwa. In Assamese 'no' means new and 'khuwa' means to eat. Peoples are offering their newly harvested rice as kheer (A sweet dish made of rice , milk and suger) to maa durga before eating in home.

The scenic beauty of the temple is awesome as it is surrounding by tea gradens. Deuhal aai than can be easily accessible from Tinsukia town. It is situated just 1 km from the Tinsukia Duliajaan highway.