Disangmukh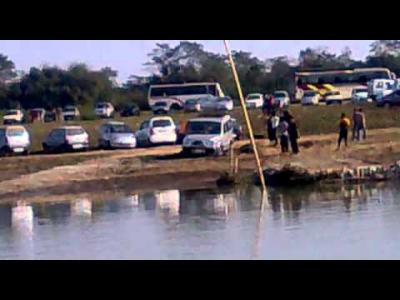 As the name suggest Disangmukh is a place where the Mighty Brahmaputra and Disang joining together, the place is also an ultimate destination for tourists to have a close look to the by Mising community people, one of the colorful communities of Assam. This place is situated almost 10 Km from Sivasagar town.
For all nature lovers Disangmukh is one of the famous tourist spots and are a perfect single day holiday destination. It becomes quite exotic experience of picnic at 'Disang Sapori' surrounded by flowing water of Disang river crossing by joined boats of two to three small boats during season, i.e., December to February. It is amazing that in the Disang Sapori there is a small growing village - Zila Basti with a primary school.

When To Visit Disangmukh :

The best time to visit the place is winter when you can have look to the migratory birds also. One should avoid Disangmukh during summer. In summer, Brahmaputra may flood the region, so not advisable for tourists. The white and vast sand of Brahmaputra provides peace and serenity to the vistors. Boats can be hired to cross small canals of Disang to the temporary river islands created by the Brahmaputra. Visitors can also have a chance to see the river Dolphins of Brahmaputra here, whose population is decreasing rapidly.

People from the south bank of Brahmaputra usually reach Dhakuakhana via Disangmukh by crossing the river Brahmaputra in a ferry. The river route via Sivasagar Disangmukh is used by the commuters more often than not. River Disang flows into river Brahmaputra at Disangmukh and large motor boats or ferries from this place cross river Disang and then Brahmaputra to reach either Matmora or Tekelifuta on the northern bank of Brahmaputra. It takes about 45 minutes in winter and around 3 hours during summer to cross over to the northern bank. Jeeps and other vehicles then carry the passengers to Dhakuakhana town of Lakhimpur district.

Disang Festival :

Disang festival becomes one of the major events in Sivasagar district organized once in every two years interval in Disangmukh. In this rendezvous festival celebrated primarily in the first week of January with various traditional fun games and sports on the sand of river bed of Disang River occurs big gathering from different parts. On the other hand, products of the local Self Help Groups and indigenous agriculture products of local individual growers exhibit and sold through this grand festival. This festival now turns to be the vivid exhibition of unique traditional culture and autonomy of Mising community people in Sivasagar.

Around disangmukh there are mostly villages of Mising tribes. The rich and colourful traditions of the Mising tribes can still be observed around Disangmukh. If anyone want to have a close look to the lives of fishermen in Assam, this one of the very suitable place. In Disangmukh 90% houses are Chang Ghar. Mising community peoples are living in thatched houses raised on bamboo stilts, known as Chang ghar. It was a protection against flood waters during the rainy season, although the original logic behind raised houses was protection from wild beasts. One can test "Poro Aapong" or rice beer, with Pork and dried fish in Chang Ghar which is a trditional drink of Mising tribes.

The sunrise or sunset in the brahmaputra is a heavenly experience in Disanmukh. One should not missed Disangmukh while visit Sivasagar.

How to reach Disangmukh : One can hire a local taxi or an auto from sivasagar town with reasonable rate. The nearest aiprport is in Jorhat and Dibrugarh. Sivsagar having own railway station in Sivasagar Town.

Where to stay in Disangmukh : There is no hotels in Disangmukh. One can stay in sivasagar town which is near about 10 Km. There are various luxurious hotels in sivasagar.

To know more about Sivasagar, Please click here.
Photos of Disangmukh

Sai mod in Chan...

Mising Communit...

Mising Communit...

Mising Communit...

Mising Communit...

More Photos