Digboi Refinery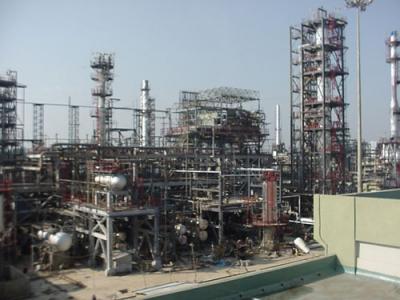 Digboi Refinery the Asia's oldest refinery marking 100 years of its establishment is situated in upper Assam district of Tinsukia. A century ago just before the World War I, history of another kind was in the making in a remote corner of Assam in the midst of the dense and malaria infested jungles by a band of intrepid pioneers searching for black gold. Italian Engineers, commissioned by the Assam Railways and Trading Company, which has already established Tea Gardens, Coal Mines and Timber Mills in the remote North-Eastern part of Assam, to build a railway line from Dibrugarh to Margherita (headquarters A R T & Co.) accidently discovered oil at Digboi. Digboi oilfield has the oldest running oil well in the world. With a significant number of British professionals working for Assam Oil Company until the decade following independence of India, Digboi had a well-developed infrastructure and a number of bungalows unique to the town. It has eighteen holes golf course as part of the Digboi Club. It has guest houses and tourist residential apartments laid on Italian architectural plan to promote tourism in upper Assam.
The Digboi Refinery was set up at Digboi in 1901 by Assam Oil Company Ltd.. Digboi was the birth place of Indian Oil Industry. The Indian Oil Corporation Ltd (IOC) took over the refinery and marketing management of Assam Oil Company Ltd. with effect from 1981 and created a separate division. This division has both refinery and marketing operations. The refinery at Digboi had an installed capacity 0.50 MMTPA (million metric tonnes per annum). The refining capacity of the refinery was increased to 0.65 MMTPA by modernization of refinery in July, 1996. A new delayed Coking Unit of 1,70,000 TPA capacity was commissioned in 1999. A new Solvent Dewaxing Unit for maximizing production of microcrystalline wax was installed and commissioned in 2003. The refinery has also installed Hydrotreater to improve the quality of diesel.

Petroleum products are supplied mainly to north-eastern India primarily through road and by rail wagons. A new Delayed Coking Unit was commissioned in 1999. A new Solvent De-waxing Unit for maximizing production of micro-crystalline wax was installed and commissioned in 2003. The refinery has also commissioned a Hydrotreater and Hydrogen Plant in 2003 to improve the quality of diesel. The MSQ Upgradation project has been mechanically completed and expected to be commissioned by October'10. A new terminal with state of the art facility is under construction and expected to be completed by end 2011. The refinery is ISO-9001,ISO-14001 and OHSAS accredited, its laboratory is NABL accredited and follows TPM.

With development in technology and infrastructure, Assam Oil Division is moving towards attaining higher standards of excellence. With a name that has existed for over 100 years, ready to meet the challanges of the future with its greatest resource - a committed and talented workforce. Assam Oil Division has always upheld its commitment towards the community at large, as a good corporate citizen. It has been carrying out various developmental activities in the region. In its journey forward it belives in carrying along with it, the community with which it co-exists. Today with its modern technology and facilities, Digboi Refinery produces major petroleum products like fuels, wax, bitumen and range of specialty products. This hundred year old Digboi refinery can very well be said a technical marvel of the past and present.

Hotels In Digboi :

1) Galaxy Hotel, Digboi 80ft Road, Police Point Charali, Digboi

How To Reach Digboi :

Digboi has good commuting options within and outside the town. The National Highway 38 connects the place to the city of Guwahati, which is at a distance of 527 km from here. Apart from that, you will find well-maintained airways and railways connecting the city with the rest of India. Given below are the ways for reaching Digboi, the Oil City of Assam, safely as well as conveniently.

By Air : The nearest airport from Digboi is the Mohanbari Airport, which is situated at Dibrugarh. The distance from this place to the airport is around 65 km and can easily be covered by taxi. Mohanbari Airport has regular flights to Guwahati and also to other major places within the country, like Delhi, Mumbai and Bangalore. Airlines like the Air India, Indian Airlines and Kingfisher conduct flights to and from the city, on a regular basis.

By Rail : The nearest railway station from Digboi is situated in Tinsukia, which is at a distance of 40 km from the town. From Tinsukia, one can easily hire a taxi or catch a bus to Digboi. Regular trains from Guwahati also connect to this place. Besides this, there are also two major express trains connecting Tinsukia to Delhi (Rajdhani and Brahmaputra Mail) and a third one connecting the place to Kolkata.

By Road : The NH 38 runs through Digboi, linking the place to all the major towns and cities of Assam. Thus, commuting by road is also a good mode of travel for the residents of the town. The ASTC (Assam State Transport Corporation), operating all through Assam, provides a wide range of A/C and non A/C buses for traveling to different places within and outside the state. There are even special mini buses for traveling to the hilly areas.
Photos of Digboi Refinery

Digboi the birt...