Chakrashila Wildlife Sanctuary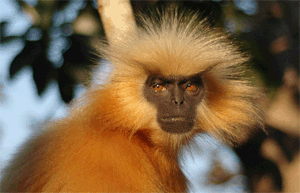 Falling under two dictrcits of Lower Assam under BTC (Bodoland Territorial Council) Dhubri and Kokrajhar, and covering approximately 45.568 sq. kms (4556.8 hectares) Chakrashila Wildlife Sanctuary is a wildlife sanctuary famous for the Golden Langur and is the second protected habitat for Golden Langur in India. Located in a panoramic location surrounded by green hills and two lakes on either side, Chakrashila Hill was first declared as reserve forest in 1966 and on July 14, 1994 it was recognized with the status of sanctuary by the Government of Assam. It is around 6 km from Kokrajhar town, 68 km from Dhubri town and 219 km from Lokpriya Gopinath Bordoloi International Airport, Guwahati.
Chakrashila Wildlife Sanctuary is a safe haven for huge varieties of animals, which are on the verge of extinction. It is famous for the Golden Langur (Presbytis Geei), found only along the Indo-Bhutan border in Assam and is the second protected habitat for Golden Langur in India. It was in the year 1986 when the members of Natures Beckon, an environmental activist group in North East India, first discovered Golden Langur in Chakrashila. It is surrounded by hills. The lower hilly reaches are covered with Sal coppice regeneration while middle and upper reaches are covered with mixed deciduous forests and there are two lakes on either side of the Chakrashila Wildlife Sanctuary. These are Dheer & Deeplai. A place for both local & migratory birds, these two lakes contribute a lot towards enriching the biodiversity of the Snctuary. Many different mammals, birds, twenty three species of reptiles, more than forty butterfly species are found in this sanctuary.

Climatic condition of Chakrashila falls under tropical moist category. Annual average rainfall varies between minimum 2000 mm to 4000 mm maximum. Temperature is maximum 30 degree in summer and 8 degree in winter. Highest rainfall occurs during the month of July & August. Relative humidity is very high with an average of 86% in summer.

The main aim behind declaring this forest as a sanctuary was to conserve this endangered species & to secure their habitat. Other than Golden Langur, another 30 species of mammals are recorded in this sanctuary including Leopard, Leopard Cat, Rhesus Macaque, Chinese Pangolin, Porcupine, Barking Deer, Sambar, Asiatic Jackal, Bengal Fox etc. Other than mammals, 23 species of reptiles & amphibians including snakes, monitor lizards, turtle & frogs are also found here. More than 40 species of butterflies & 60 different species of insects are also found in Chakrashila wildlife sanctuary.

There are more than 250 species of birds in Chakrashila, some of which are listed as endangered in IUCN Red Data List. The adjacent two lakes Dheer & Deeplai also contributes a lot & become an integral part of the rich bird diversity of the sanctuary. Some of the important & commonly seen bird species are Little Cormorant, Darter, Little Egret, Intermediate Egret, Large Egret, Shag, Pond Heron, Night Heron, Open Billed Stork, Greater Adjutant Stork, Lesser Adjutant Stork, Lesser Whistling Teal, Cotton Teal, different species Owl , Hornbill, Green Pigeon, Green Imperial Pigeon, Kingfisher, Dove, Barbets, Drongoes, Sunbirds, Shrikes, Minivets, Magpie Robin, Tailor birds etc.

The forest type of Chakrashila is mostly semi-evergreen forest. Sal tree (Shorea robusta) is a dominant tree in this forest. In upper area, mixed deciduous forest are also seen. Other prominent tree species include Sal ( Sorrea robusta), himolu ( bombax cieba) ,Amari (Amoora wallichi), Bhumura(Terminalia belerica), Bandardima (Dysoxylum procerum), hilikha ( Terminalia chebuja), poma(Cedrela toona), bogiopoma (Chikrasia tablaris), Jamuk( Syzygium cuminni), Kadam ( Anthocephalus cadamba), Moj(albizzia lucida), Udal(Sterculia villosa), outenga(Dillenia indica), Paroli( sterosperwum personatum), gomari(Gmelina arborea), Bhatghila( oroxylum indicum), Bonsum(Phoebe goalparens). Grasslands are also an integral part of this forest.

The Sanctuary has some tourist accommodation facility at Choraikhola, Kokrajhar and also provides facilities for bird watching, forest trekking, and wildlife and nature photography.

Best time to visit Chakrashila Wildlife Sanctuary : One can visit the sanctuary the year long; however it is best to avoid the monsoon season (June-July) as Monsoon in Assam can be very heavy.

How to reach Chakrashila Wildlife Sanctuary : The nearest Airport LGBI Guwahati is 263 kms. away and the road distance from Guwahati City is 269 kms., from Dhubri is 70 kms., from Bongaigaon is 50 kms. and from Kokrajhar is 7 kms.

Where to stay in Chakrashila Wildlife Sanctuary : A Forest Rest House is available at Choraikhola near Kokrajhar. Visitors may contact the D.F.O. Wildlife Division, Kokrajhar.

Hotels in Kokrajhar -

1) Hotel Omshri, J.D. Road, Kokrahar
Tel- +91-3661-271656/270655

2) Sahara Lodge, Patalpur Road, Kokrajhar
Tel.- +91-3661-270824

3) Seven Brothers' Lodge, Bazar Road, Kokrajhar
Tel.- +91-3661- 271701

4) Basumatary Lodge, R.N.B. Road, Kokrajhar

5) Prashanti Lodge, R.N.B. Road, Kokrajhar
Tel.- +91-3661-270094, +91-94352-55113

6) K.R. Lodge, J.D. Rd, Kokrajhar.

Whom to contact for visit Chakrashila Wildlife Sanctuary :

The D.F.O. Wildlife Division, Kokrajhar,
Tel.- +91-3661-270635.
Photos of Chakrashila Wildlife Sanctuary

Golden langur i...