Majuli Raas Mahotsav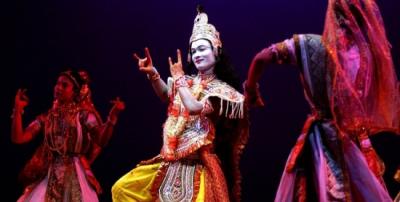 Majuli the famous river island and the core of Assamese Neo-Vaishnavism, located in the midst of the Brahmaputra with glittering cultural treasures, is making elaborate preparations to celebrate the Raas Mahotsava. As per the Hindu almanac, the festival is scheduled to commence on November. With the glorious history of five hundred years of Satriya living cultural tradition, the rich and colourful tribal cultural elements, Majuli has the charm to beckon the tourists, unraveling itself as a paradise on the earth.
Majuli is the lone place in the State where the Raas Leela of Lord Krishna is celebrated through the plays enacted by the devouts. For the past several centuries, it is the tradition of the Majuli people to pay their obeisance to Lord Krishna by enacting his Raas Leela themselves.

During the Raas festival, Majuli becomes a veritable place for pilgrimage. For the believers, the island becomes the abode of the Lord and other divinely figures during this four-day festival starting from the Raas Purnima day.

Virtually every single person on the island is involved in the three-day long raas festival, depicting the life of Krishna. All communities of the island play a part during this time - children acting in plays, teachers lending their voices to characters, shopkeepers and bank employees reciting songs and chants. The various monasteries of the island stage various interpretations of Krishna's life by using folk dances, puppets, masks, songs and dance, all enrolled in a charming riot of colors. And like old times when there were no television, the Raas Festival is an all-night long extravaganza with no commercials in between, but with everybody's eyes glued to the performances of the talented and kind artists.

Those playing the roles in the plays are made to lead an austere life for several days preceding the Bhaona days so as to avoid any mistakes during the performance. The bhakti rasa (devotional feelings) generated by the plays is such that even in some of the Majuli sattras (monasteries) the satradhikars (head of the monasteries) bow down before those playing the role of Lord Krishna.

People from hundreds of kilometers away come to celebrate this festival including a number of expatriate members of community. The satras have also honed certain art and craft traditions, which can now be found only here. In Natun Samuguri Satra for example, one can still find the craft of mask-making; and in the Kamalabari Satra the finest boats are made.