Kaziranga National Park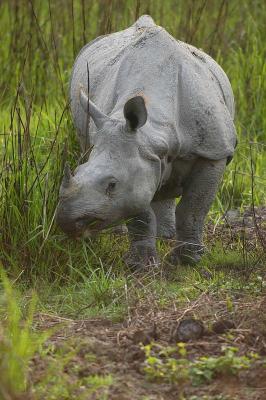 Kaziranga National Park, a World Heritage Site. Its 430 square kilometers of swamps and grassland with tall thickets of savannah elephant grass and patches of evergreen forest support the largest number of one horned rhinos on the Indian subcontinent and offer you some of the best views of wildlife from the back of an elephant or from a four wheel drive vehicle. In the heart of Assam, located on the banks of the mighty Brahamputra River, this park is one of the last areas in eastern India undisturbed by a human presence. The park also has elephants, swamp or wild buffalo (Over 70% of the world population), swamp deer, hog deer, barking deer, sambar/ Hoolock gibbon, pythons, civet cat, wild boar and tigers. There is a rich variety of fresh water fowls, over 450 species of woodland and grassland birds of which 18 species are globally threatened. Birds like the egrets, pond herons, river tern, black necked storks, pelican, partridges, Bengal florican stork, pied hornbill, fishing eagle are found in abundance. The river here has the gharial (fish eating crocodile) and dolphins.
Kaziranga national park ia a national park in the Golaghat and Nagaon districts of the state of Assam, India. The Kaziranga National Park area consists of 429.93 Sq.Km. with an additional area of 429.40 Sq.Km. The total area of the park within Nagaon district is 175 Sq.Km., out of which 135 Sq.Km. falls under Bagori Forest Range office and 40 Sq.Km. falls within Ghorakati Forest Range office. A World Heritage Site, the park hosts two-thirds of the world's Great One-horned Rhinoceroses. Due to limitless poaching of this prehistoric survivor, the Kaziranga National Park was declared a wildlife sanctuary in 1940. Kaziranga boasts the highest density of tigers among protected areas in the world and was declared a Tiger Reserve in 2006. A few centuries ago, the Indian one horned Rhinocerous ranged across the north Indian plains in the wetlands of the rivers Indus, Ganga, and Brahmaputra. Today this survivor from the prehistoric times is found only in pockets in the north eastern state of Assam and in Nepal. In Assam, their Rhino habitat is limited to just two national parks - Kaziranga and Manas. Kaziranga National Park is a birding paradise; the grasslands are a raptor country that can be seen on safari makes a remarkable experience.

Attractions : Beside of course the great one horned Indian Rhino, the other major wild attractions include a large population of Indian Elephants, Indian Bison, Swamp Deer or Barasingha, Hog Deer, Sloth Bears, Tigers, Leopard Cats, Jungle Cats, Otters, Hog Badgers, Capped Langurs, Hoolock Gibbons, Wild Boar, Jackal, Wild Buffalo, Pythons, Monitor Lizards, etc.

Kaziranga National Park is a birding paradise; the grasslands are a raptor country that can be seen on safari makes a remarkable experience. These include the Oriental Honey Buzzard, Black-Shouldered Kite, Black Kite, Brahminy Kite, Pallas's Fishing Eagle, White Tailed Eagle, Grey-Headed Fishing Eagle, Himalayan Griffon, etc. Huge numbers of migratory birds descend on the parks lakes and marshy areas during winters, including Greylag Geese, Bar-Headed Geese, Ruddy Shelduck, Gadwall, Falcated Duck, Red-Crested Pochard and Northern Shoveller.

Kaziranga contains significant breeding populations of 35 mammalian species, of which 15 are threatened as per the IUCN Red List. The park has the distinction of being home to the world's largest population of the Great Indian One-Horned Rhinoceros (1,855), Wild Asiatic Water Buffalo (1,666) and Eastern Swamp Deer (468). Significant populations of large herbivores include elephants (1,940), gaur (30) and sambar (58). Small herbivores include the Indian Muntjac, wild boar, and hog deer.

Kaziranga National Park has the following ranges :

Kohora (Central) Range.

Bagori (Western) Range.

Agoratoli (Eastern) Range.

Burapahar (Ghoraketi) Range.

Panbari Reserved Forest.

Tourist Guide : For summers light cotton clothing would be suitable, but in winters it is advisable to carry tough woolen clothing. The average temperature around Kaziranga National Park in summer is 32.2 deg. C and in winter 10 deg. C. On an early winter morning on elephant back or in a open jeep, the temperature feels far colder than 10 deg. C. March - April is best for animal sightings. Trained elephants are available as mounts for seeing the rhinos at close range. Elephant rides which last around one hour, should be booked the previous evening at the park administrative Centre in Kohora.


Information of Hotels & Resorts

1) Joint Director of Tourism, Govt. of Assam, Kaziranga National Park, Phone : +91-3776-2662429/ 423

2) Wild Grass Resort. Kaziranga National Park : The Wild Grass Lodge is a jungle lodge located outside of kaziranga national park, 200 kms from guwahati, assam. It is built in an attractive rural style kind of architecture, with grounds having more than 40 species of trees over 200 species. Phone : +91-361-2546827, +91-3776-262085

3) GL's Resort, Phulaguri : GL's Resort is located at the Phulaguri, Kaziranga National Park just besides the NH-37.All Rooms are comfortable accommodation with modern amenities. Phone: +91-3672-299263/210001/279002, +91-9864025267

4) Bonhabi Resort, Kaziranga : Bonhabi Resort is very nearest of kaziranga national park's main entry gate. It is only 1 minute away from the park entry gate. Resort is located at Bagarijuri in kaziranga, which is an exotic tourist destination of india

5) Landmark Woods Resort, Kaziranga : Landmark Woods, a world class resort amidst breathtaking greenery and spread over 15 acres of undulating landscape. Thirty lavish well appointed rooms, complimented with amenities and room service, a fusion cuisine restaurant and a well stocked bar.

6) Aranya Resort, Kaziranga : Aranya Forest Lodge is only 3 kms away from park entrance at mihimukh, kaziranga. Forest lodge is run by the assam government and it is spread in 7 acres. The lodge provides a/c and non a/c rooms furnished with modern accessories and facilities.

7) Kaziranga Resort : The land of the one horned rhino, rare migratory birds and exotic flora and fauna is Kaziranga. Explore the 32 bighas of lush greenery surrounded by misty mountains. Surrender unto nature's mystique at Kaziranga Resort Kaziranga Resort .

How to reach Kaziranga :

By Air : The nearest airports are at Jorhat, 97-km and Guwahati, 217-km away from the park. Jorhat has direct flights to Kolkata, Delhi and Guwahati has direct flights to Delhi, Kolkata and other major cities in India.

By Rail : The nearest railhead is Furkating, situated 75-km away from the park and Jorhat.

By Road : The main gate for Kaziranga, at Kohora is on the National Highway. ASTC and private buses stop here on their way to and from Guwahati, Tezpur and Upper Assam; some private buses retain a seat quota for Kaziranga passengers. The 4-hour drive from Guwahati along the Bramhaputra south bank on the NH37 passes Dispur, Nowgong and Bagjan to the park entrances at Kohora and Baguri.
Photos of Kaziranga National Park

A pair of rhino...

Tourist Enjoyin...

A Injured Rhino...

Deers at kazira...

Foreign Tourist...

More Photos