Thekera Tengar Hoite Mass Or Thekera Dia Massor Tenga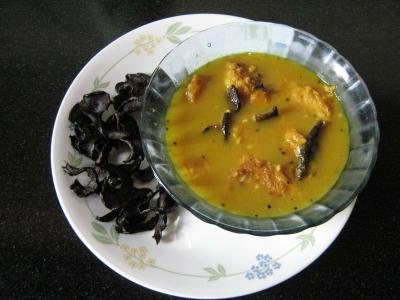 Thekera is the souring agent in this traditional Assamese dish. Thekera for the typical sour taste or alternatively can use lime juice or juice of tomato.
Ingredients:

1. Fish - 1 cleaned catfish, cut to about 3/4 inch pieces.
2. Turmeric - Half Teaspoon
3. Green chilies, Chopped - according to taste
4. Panch Foran
5. Mustard Oil
6. Salt to taste
7.The most important thing - Thekera

Method:

Put the "thekera" in a cup of water. A piece of thekera will give you one bowl of curry to serve one person.SO soak as much as you want. Keep for about 1/2 hour.Mix the turmeric and salt with the fish. Fry the fish in oil lightly. Remove from pan.

In the same pan, Remove the extra oil, leaving about a table spoon behind and add panch foran. Put green chillies. When fried, put the cup of water with "Thekera". Add extra cups of water (depending on the number of "Thekera" used). When it comes to boil, add fried fish and reduce flame
Let it simmer for some time (10-15 minutes), till the juice gets cooked and a tangy flavor comes out.

Serve with steamed rice.