Sungat Diya Mass Or Bamboo Fish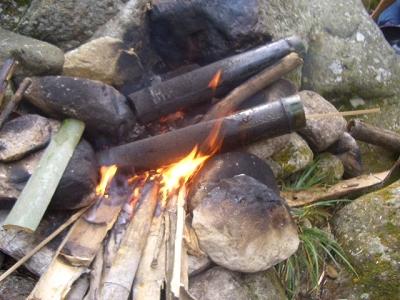 "Sungat Diya" or the word Bamboo Fish which means fish is roasted in a bamboo.

Note: The Bamboo must be opened with one stroke cut in about 45 degree angle. ( Assmese : Banhor Paab to eke ghapote kaatibo lagibo, beka ke). Also, please open the Bamboo on one side just before you are ready to fill it with the ingredients, this is a cooking tip to retain freshness and flavor.
INGREDIENTS:

1. A piece of Bamboo ( edible variety), both sides close.As mentioned before, "Sungat Diya" is best during October and November as the Bamboos have water in them and the tender variations are avaiable.

2. A fire place to burn the Bamboo.

3. Small Fish - About 500 gm will fill in 3 Bamboos of 20 inches size. Please clean and wash. (In Assamese, Mowa Maas or Xoru Maas)

4. Chopped Onions - 2 Big

5. Chopped Green Chillies - As per your taste.

6. A bunch of coriander - As per taste

7. Salt - As per taste.

8. Mustered oil - 2 Spoons

9. Banana Leaves

PROCESS:

Mix all ingredients except the Bamboo and Banana Leaves. Light your fire. Put all the ingredients in the bamboo hole leaving about an inch of space between your banana leaf stopper and the ingredients. Close it tightly and roast it well. Make sure your Bamboo is fully roasted but not cracked. Once done open it and enjoy.