Bagurumba - Festivals Of Boros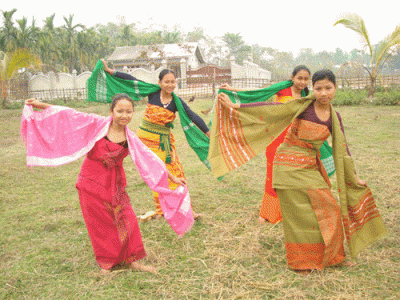 Bagurumba is a folk dance of Assam, India performed by the Boros. It is the usually practiced during Bwishagu, a festival of the Bodos in the Bishuba Sankranti or Mid-April. The Bwishagu starts with cow worship. Then young people reverentially bow down to their parents and elders.
Among all the dances the best and the most attractive dance in Assam is the Bagurumba dance. This is mainly a formation dance performed with slow steps and outstretched hands. A group of girls dressed in most colourful dokhna, jwmgra and aronai costumes usually perform this dance with the accompaniment of traditional musical instruments of Bodos. This dance is common in the Bodo inhabited areas of Kokrajhar, Bongaigaon, Nalbari, Darrang and Sonitpur districts. This dance is also called as the Bardwisikhla dance.

The dance is the usually performed during Bwishagu festival of the Bodos in the Bishuba Sankranti or in Mid-April. The Bwishagu festival begins with a worship of the cows and then the young people bow down to their parents and other elders in the house. After this the Bathou is worshipped by offering the deity chicken and zou i.e rice beer. The musical instruments like Serja, Sifung and Tharkha also accompany the dance. With these instruments, Kham, a long drum made of wood and goatskin and Gongona, a musical instrument of a curved horn is also used. The festival is celebrated with pleasure in all areas of Bodo community. This festival ends with a community prayer at Garjasali.

The Bodos traditionally dance the Bagurumba. It is practised and performed usually by young village girls and also evident in schools and colleges dominated by the Boro community. This dance is accompanied by the Bagurumba song which goes like this

Bagurumba, Hai Bagurumba
Bagurumba, Hai aio Bagurumba
jat nonga bwla khun nonga bwla
thab brum homnanwi bamnanwi lagwmwn kha
hwi lwgw lagwmwn kha...

Musical instruments

Among many different musical instruments, the Bodos use:

Siphung: This is a long bamboo flute having five holes rather than six as the north Indian Bansuri would have and is also much longer than it, producing a much lower tone.

Serja: A violin-like instrument. It has a round body and the scroll is bent forward.

Tharkha: A block of bamboo split into two halves for clapping.

kham: A long drum made of wood and goat skin.

Khawang: A pair of round metallic plates, tied by a rope, a smaller version of that being used in namghar.
Photos of Bagurumba - Festivals Of Boros

Traditional Bod...

Bagurumba - Tra...

Bagurumba - Tra...