Magh Bihu Or Bhogali Bihu ( Bihu Of Enjoyment )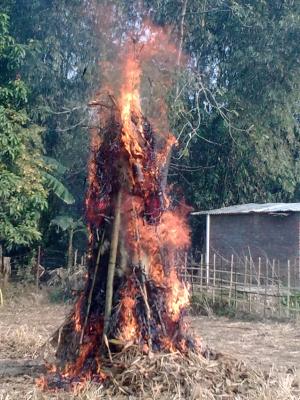 Magh bihu or Bhogali bihu or Maghor bihu which is a harvest festival and marks the end of harvesting season is comes from the word Bhog that is eating and enjoyment. It marks the end of harvesting season in the month of Maagha (January–February). It is the Assam celebration of Sankranthi, with feasting lasting for a week.
There is a lot of feasting and eating in this bihu celebration as the fields are full. On the eve of the bihu, called 'uruka', young men go to the field, preferably near a river, build a makeshift cottage called 'Bhelaghar' with the hay of the harvest fields and the 'Meji', the most important thing for the night. During the night, people prepare food and there is community feasting everywhere. The entire night (Uruka) is spent around the Meji with people singing bihu songs, beating 'Dhol', a typical kind of drums or playing games. Magh Bihu is celebrated at a season when winter is about to go. It is believed that the fire of Meji burns the winter out.

The next day is the main Magh Bihu. In the very early morning, people take bath and burn the main 'Meji'. People gather around the 'Meji' and throw 'Pithas' (rice cakes) and betel nuts to the fire while burning it at the same time. They offer their prayers to the God of Fire and mark the end of the harvesting year. Next day is followed with community celebrations all across with rice cakes being distributed to all. People visit relatives and friends to convey and exchange Bihu greetings.

Ladies of the society prepare for this Bihu for many days. They cook various snacks, sweets, for this day. On the Bhogali Bihu day, they carry their food items to the auspicious Meji spot. Various types of Jolpan and pitha are served to everyone.

Like all other Bihu, Magh Bihu also has the ritual of showing respect the the elder one with Gamosa.

A peculiarity of this festival is that in some parts of the state the traditional "Buffalo Fight" is organized to make the festival more interesting. Different types of sports like Egg-fight, Cock-fight, Nightingale-fight etc. are held throughout the day. There are other conventional festivals observed by various "enthno-cultural" groups. Me-dam-me-phi , Ali-aye-ligang , Porag, Garja, Hapsa Hatarnai, Kherai are few among them.The koch celebrates this bihu as pushna.
Photos of Magh Bihu Or Bhogali Bihu ( Bihu Of Enjoyment )

Sorai juj (Trad...

Kukura juj (Tra...

Mohor juj (Trad...

Maghor bihu Mej...

Maghor bihu Mej...

More Photos