Jonbeel Mela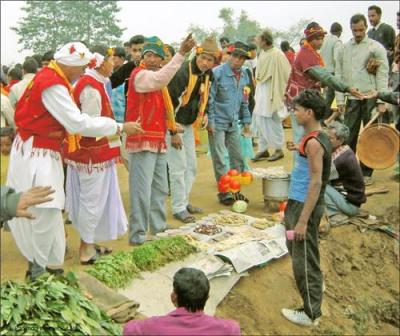 Started later than 15th Century AD this was first organized several centuries ago by the Ahom kings to discuss the prevailing political situations. Jonbeel Mela is one of the most attractive and unique festival of Assam where Barter system comes alive. It is the only fair in India where barter system is still alive. Just 30 km from state capital Guwahati, Assam it is a 3-day-long community fair held at the weekend of Magh Bihu (Mid of January)at a historic place known as Dayang Belguri at Jonbeel.
It is 5 km from Jagiroad in Marigaon district of Assam. During these three days, people from the plains and the hills barter goods according to their needs. The Jonbeel (Jon and Beel are Assamese terms for the Moon and a wetland respectively) is so called because a large natural water body is shaped like a crescent moon.

The three day long festival takes its name from the lake next to which it is celebrated, the "Jonbeel". Before the mela takes place, an Agni Puja is performed for the well-being of the mankind. The mela starts with community fishing in the Jonbeel wetland. The theme of the mela is harmony and brotherhood among the various tribes and communities scattered in the Northeast India. In this Mela, hill people and the people of plain exchange commodities.

Here people are exchanging their goods with those of the people from the plains. Peoples from hills bring spices, herbs, ginger, fruits to exchange them with rice, fish, cakes (pithas) and other stuff which can't grow in hills. Mainly, people from the hills of Jaintia (Meghalaya) and Karbi Anglong (Assam) come to barter goods in the mela. Some 10000 tribal villagers from the nook and corners of Assam come here and meet at the beautiful valley. They spend these three days in makeshift bamboo huts as a greater family and share their moments with each other. They dine together as a group. The Mela takes place from a Thursday and ends on Saturday of the second or third week of Magh.
During the mela the king of the Tiwa tribes, popularly known as Govaraja along with his courtiers visit the mela and collect taxes from their subjects. During this festival people from various tribes perform their traditional dance and music and makes the whole atmosphere joyful

During the mela the Gova King along with his courtiers visits the mela and collects taxes from his subjects. In the preceding day of the Mela, the Gobha Raja and the officers offer and enjoy a community feast on the bank of Jon Beel.

The mela stands for harmony and brotherhood amongst various tribes and between the people of the hills and the plains. During the fair these communities perform their traditional dances and organize cock fights, fish melas and wooden furniture bazar to attract customers from the plains.
Photos of Jonbeel Mela

Jonbeel Mela 20...