Kati Bihu Or Kongali Bihu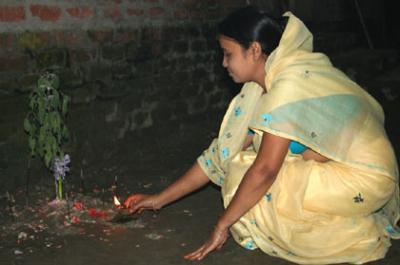 The Kati or Kangali Bihu is also closely related to agriculture. Kati Bihu is celebrated on the first day 'Kati' month in Assamese calendar. Kati bihu is also called Kangali, "Kongal" means "Poor" because there is not much to eat at this time of the year.
Tulokhir tole tole !!
Mrigo pohu sore sore !!
Oi ram kar gore loi harinam !!
This Bihu is celebrated in the evening time by lighting lamps or candles, Saaki, in various places. People of Assam (particularly ladies) worship, pray and welcome Goddess Lakshmi home, lighting earthen mustard oil lamps in the fields where paddy is growing, in front of the sacred Tulasi plant, store (bharal ghar) etc. This formal procedure continues for a whole month. Tulshi plant is very auspicious in Hinduism.

In paddy fields, there is a special type of lamp lit up which is called 'Akaxh Banti'(Sky candle). These lamps are lit up high on the tips of tall bamboo. The cultivators pray for the good health of their crops. Scientifically, these lamps used to attract insects of the paddy fields and they fall prey into the fire of these lamps. This helps the crops to be healthy and free from insects.
Photos of Kati Bihu Or Kongali Bihu

Kati Bihu Or Ko...

Kati Bihu Or Ko...

Kati Bihu Or Ko...

Kati Bihu Or Ko...

Kati Bihu Or Ko...

More Photos