Sarbananda Sonowal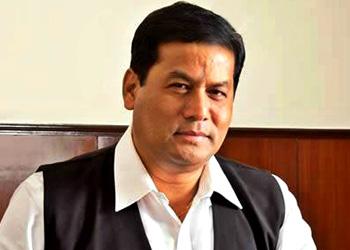 Born on October 30th, 1962 at Chabua Molok Gaon, in the Dibrugarh district of Assam to a farmer Late Shri Jibeswar Sonowal and Smt. Dineswari Sonowal, Sarbananda Sonowal is the youngest child among 8 childrens of Jibeswar Sonowal. The older one Misto Prasad Sonowal followed by Girish Sonowal, Duleswar Sonowal, Dalimi Saikia (Sister), Nareswar Sonowal, Rumi Saikia (Sister), Devanada Sonowal and the youngest one Sarbananda Sonowal.
Graduated in Arts from Dibrugarh Hanumanbax Surajmall Kanoi College (D.H.S.K. college), he did his Bachelor of Criminal Justice from Dibrugarh University and went to do his LLB from Gauhati University. He did his LLB and Journalism with specialization in public relations. He was the President of Assam's oldest student body All Assam Student Union (A.A.S.U.) from 1992 to 1999 for two times. Sonowal began his political career with the All Assam Students Union (AASU) and later with Asom Gana Parishad (AGP). He was also the president of North East Students Organisation.


Sarbananda Sonowal left student politics on 1999 and joined Asom Gana Parishad (A.G.P.). In the same year he was contesting from Lakhimpur Constituency for Member of Parliament, but lost against Ranee Narah of Indian National Congress (I.N.C.). He was first elected as M.L.A. from Moran constituency on 2001. From 2004-2009 he was representing Dibrugarh Constituency in Parliament. He was the first non-congress member in Parliament since Independence from Dibrugarh Constituency. But in 2009 he lost the seat against Paban Singh Ghatowar, Indian National Congress from the same Constituency. In the meantime in 12th July, 2015, the Illegal Migrants (Determination by Tribunal) (I.M.D.T.) act was struck down by the Supreme Court of India which was challenged by Sarbananda Sonowal in courts. Sonowal was declared as Jatiya Nayak of Assam by Assam Student Union (A.A.S.U.).

Before 2011 Assam's general election he joined the Bharatiya Janata Party in the presence of the then BJP National President Nitin Gadkari and senior leaders like Varun Gandhi, Vijay Goel, Bijoya Chakravarty and state BJP president Ranjit Dutta. He was immediately appointed as a member of the BJP National Executive and later on the State Spokesperson of the BJP unit. In 2012 he was appointed as BJP state President of Assam. In 2014 election BJP won 7 seats out of 14 in Assam which was a landslide victory for the party in North Eastern Regions. Sarbananda Sonowal himself which was contesting from the Lakhimpur Constituency once again and won with alomost 3 lakhs votes and elected to the Member of Parliament. He become Union Minister for Sports & Youth Affairs minister in Narendra Modi Government.

In 2016 Assam's general election, Sonowal become Chief Ministerial candidate of B.J.P.. Sonowal's presence meant the BJP fought the election with a definite chief ministerial candidate - the first time that it did so in Assam. Sonowal won from the prestigious Majuli seat defeating sitting Congress MLA Rajib Lochan Pegu by a margin of 18,923 votes. In this election B.J.P. shows all time highest record by winning 60 seats, with its coalition partners — the Asom Gana Parishad and the Bodoland Peoples Front winning 14 and 12 respectively. The BJP coalition has won a comfortable victory with 86 seats in the 126-member Assam Assembly. The turnaround for the BJP goes back to 2012, when Union minister Sarbananda Sonowal joined the party and was made president of its state unit.

Sonowal take oath on 24th May,2016 as 14th Cheif minister of Assam in the presence of Prime Minister Narendra Modi at Khanapara field in Guwahati.