Khagen Mahanta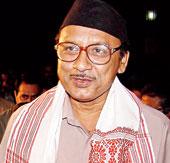 Populrly known as Bihu Samrat of Assam (King of Assamese Bihu Songs) Khagen Mahanta the notable person in assamese folk music was born in 17 August 1942 in Aamtala Gajala Satra (Satras are Mahapuruxiya monasteries established by the great Bhakti Saints Mahapurusha Srimanta) near Jajari Borguri, Nagaon district of Assam. His father was Harendranath Mahanta and mother Lakshmipriya Devi.
Khagen Mahanta took to the fascinating world of music at an early stage at the age of only fifteen. His Bihu songs, Borgeet and other folk songs are ever green to the assamese society. He was most interested in assamese folk music from his childhood. He build his career in assamesefolk music and served its cause steadfastly throughout his life. At the age of 15 he started performing in the music concerts in Shillong the undivided capital of Assam.

In 1957 Khagen Mahanta passed matriculation from Nagaon government high school and joined St. Edmund's college in Shillong. In 1959 he won the Gold Medel in Inter-University youth festival in Khul Playing (A two-sided drum) competition. The drum is played with palms and fingers of both hands. Same year he passed his I.A. and joind Nagaon college. In 1962 he completed his graduation and joined Guwahati University in english department and later joined history department. In between he wants to devote himself towards music and due to this he couldnot complete his graduation. He got the oppurtunity of singing in Delhi Doordarshan in 1959, during the inaugural year of the channel's launch, with his programme much appreciated by viewers. During language movement 1960 in Assam under the leadership of Bishnuprasad Rabha, Hemanga Biswas, Jugal Das, Khagen Mahanta was a member of Harmony group whose main motive was to popularized human values with his melodious voice and compositions.

In 1961 his first gramophone recorded song was broadcast from Guwahati All India radio center. In the same year he also participated in the "World Peace" festival in Calcutta. In 1965 he went to Nepal in a cultural exchange program. In 1973 he married assamese folk singer cum actress Archana Mahanta. Mahanta along with his wife was well-known for popularising Bihu songs on stage across the state and outside. Besides Bihu songs, he also essayed into traditional genres of Assamese music including Borgeet and folk music of different communities of the region.

Long time temporarily associated with A.I.R. Guwahati he joind as a music director in A.I.R. Guwahati in 1976 and 1986 he promoted to music composer in A.I.R. Guwahati. He was a true gentleman who never raised his voice. He was very passionate about Assamese folk music and its preservation. He tried to save the 'borgeet', 'goxha', 'biya naam' and other forms. In 1992 he was win the prestigious Sangeet Natak Academy award. Mahanta was also awarded the title of Sangeetacharya along with Film Craft Award and Shrimoy award.

His son Papon Angaraag Mahanta who is also a singer and a daughter Kingkini Mahanta. Khagen Mahanta died a sudden death at his own residence Nigaji Paam in Guwahati on 12 June 2014 afternoon.