Tarun Gogoi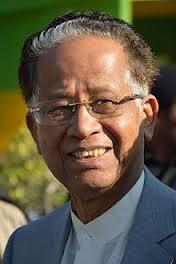 Tarun Gogoi the most successfull chief minister of Assam who served as the Chief Minister of Assam since 2001 for three consecutive terms. He was born in 1st Apr 1936 into a Ahom family in Jorhat district. His father was Dr. Kamaleswar Gogoi and mother Usha Gogoi. He is a member of the Indian National Congress and served six terms as a Member of Parliament (MP) from the Lok Sabha from Kaliabor, Nagoan since 1991.
Tarun Gogoi started his career at the Jorhat Government Boys School. He has done his BA from Dibrugarh University and than LLB from Guwahati University. After LLB Gogoi practised law with the Assam Bar Council. Gogoi has served as the chairman of the Assam Small-Scale Industries Development Corporation.

In 1968, he was elected as a member of Jorhat Municipal Board. By this time, he established his gutts as a capable youth leader of Assam. Late Prime Minister Indira Gandhi spotted this promising young talent and in 1971 entrusted him with the responsibility of organizing the youth community of the State. In the same year 30th Sept he married Smti. Dolly Gogoi and blessed with a son and a daughter.

Gogoi became a political leader with national stature after he was elected Joint Secretary of the All India Congress Committee (AICC) in 1976 under Prime Minister Indira Gandhi. After signing the historic Assam Accord in 1986 between the Centre and the All Assam Students Union (AASU), the then Prime Minister Rajiv Gandhi gave Gogoi the responsibility of rebuilding a shattered Congress in Assam at a time when the triumphant student leaders won the Assembly elections and made General Secretary of the AICC (1985–90). Gogoi served in the Union Cabinet of India under Prime Minister P. V. Narasimha Rao as Union Minister of State in the Food and Food Processing Industry.

In 1996-98, Gogoi was first elected as a Member of Assam Legislative Assembly (MLA) from Margherita Constituency. Gogoi was elected Chief Minister of Assam in 2001 after he led the Indian National Congress to victory in the state elections. Gogoi has represented the 100 no Titabar constituency of Jorhat district since 2001. From 2011 Gogoi led the party to a record three consecutive electoral victories in the state as Chief Minister.

Tarun Gogoi is associated with various Special and Cultural Activities like Treasurer of All Assam Moina Parijat & Children's Organisations and Ex Chairman, Bharat Yuvak Samaj. Gogoi like to play Golf. His favourite pastime is Reading and Gardening. His son Gaurav Gogoi also joining politics in Assam.