Nalinibala Devi Or Padmashree Nalini Bala Devi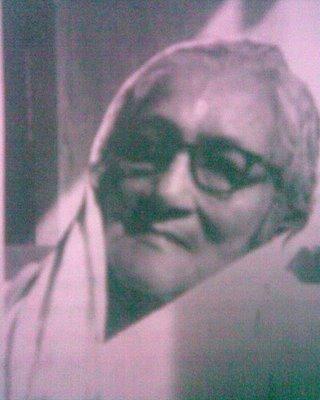 Daughter of famous Indian freedom movement activist and writer Karmaveer Nabin Chandra Bordoloi, Nalini Bala Devi was born in Guwahati in 1898 was best known female poet of her era. She was a noted Indian writer and poet of Assamese literature, known for nationalistic as well as mystical poetry. She was awarded the Padma Shri by the Government of India in 1957 for her contribution to literature, and 1968 she won the Sahitya Akademi Award given by Sahitya Akademi (India's National Academy of Letters) for her poetry collection Alakananda.
Her father was an enlightened man who believed in women's rights. She wrote her first poem, 'Pita', when she was 10 years old. Her father then moved to Calcutta so his daughter could be educated, and there he made her read and broaden her mind. She was married at the age of 12 to Jeeveshwar Changkakoti, had four children and became a widow eight years later in 1917 and also lost two of her sons early in her life. In 1922 her father was jailed for his part in anti-British agitation, and her five-year-old son was burnt to death. These tragic incidents in life however could not break her down and she started writing poems, with emotion, tragedy, patriotism and devotion as central themes, which are still acclaimed in Assamese literature

She assuaged her sorrow by writing poems and letters to her father in jail. Her first collection, Sandhiyar Sur, came out in 1928. Later, in 1935, her father's death coincided with that of her son Pabitra. She began writing for literary journals to support herself.

Her first book of poems Sandhiyar Sur (Evening Melody), published in 1928 , was later adopted by Calcutta University and Guwahati University as text book in 1946 and 1951 respectively.

Her other works includes Alakananda, Sopunar Sur (Melody of Dreams), Porosh Moni, Yuga Devata (Hero of the Age), Shesh Puja(The last worship), Parijator Abhishek, Prahlad, Meghdut, Suravi, Rooprekha, Shantipath (Essay anthology), Sheshor Sur (The last Melody) and etc.

Smritir Tirtha (Biography on her father), Biswadeepa (A collection of biographies of famous women), Eri oha Dinbur (The Days Passed, Autobiography), Sardar Vallavbhai Patel are some of her biographical works.

In 1950, she established Sadou Asom Parijat Kanan which later become famous as Moina Parijat, the children organisation in Assam. She had to her credit one drama titled Meerabai .

She was the president of 23rd Jorhat session of Assam Sahitya Sabha (Assam Literary Society) in 1955. She was awarded with Sahitya Akademi Award for her poetry anthology Alakananda in 1968. In 1969 she won the Sahitya Academi award for her poetry collection Alakananda. She also wrote children's dramas like Mirabai, Prahlad, Parijotor Abhishek, an essay collection published as Santipath (Path of Peace, 1971), a biography of her father titled Smrititirtha (Pilgrimage of Memory, 1948) and an autobiography, Eri Ahaa Dinbor (Thus Pass My Days, 1976).

She died on 24 December 1977, but is remembered in Assamese literature by the last four lines of her famous poem NaatGhar (The theatre). The Cotton College, Guwahati named its girls hostel after her as "Padmashree Nalini Bala Devi Girls" Hostel in 1986.