Bir Chilarai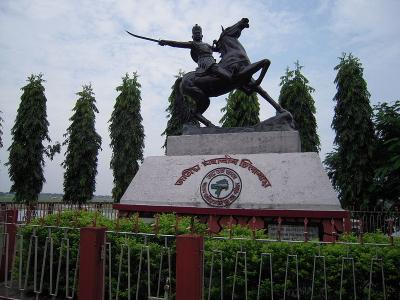 Born in 1510, the younger brother of king Nara Narayana(Kamata kingdom), was known as Shukladhwaj. He was was a great general who belonged to the Koch royal dynasty of Assam. He was Nara Narayana's commander-in-chief, and he got his name Chilarai because his movement as a general was as fast as a chila (kite). Chilarai is known to have descended from the powerful founder of the Koch dynasty of Kamatapur. His mother, Padmavati, was from the country called Gaur father name was Viswa Simha.
The reign of Maharaja Viswa Singha marked a glorious episode in the history of Assam as he was the founder ruler of the Koch royal dynasty, who newly established his kingdom in 1515 AD. He had many sons but only four of them were remarkable. Shukladhwaj, later known as Bir Chilarai, was his third son.

Born on a full moon day, Shukladhwaj had a fair complexion and hence he was called by that name. He along with his brothers learnt warfare and they all mastered the art very well. For achieving higher education, he and his elder brother Malla Dev went to Varanasi. They learnt various subjects and acquired knowledge in Sanskrit, Grammar, Literature, Law, Astrology etc.

Chilarai was instrumental in giving Srimanta Sankardeva protection and shelter, as well as marrying his niece. His son and grandson were responsible for breaking away of Koch Hajo from the parent kingdom.

He played a significant role in expanding the empire of his elder brother, Maharaja Nara Narayan. Shukladhwaj also named Chilarai which means 'Kite Prince' was perhaps the greatest general that Indian history ignored. A master military strategist, he was the commander of elder brother and Koch king Naranarayan's army. Chilarai's valour ensured Koch supremacy over the Bhutia, Kachari kingdom (of Hadimba, now dimapur) and the Ahoms( though several battles were fought between the Koches and Ahoms with countable victories for both sides). In June 1563 the Koches under the command of Chilarai crossed River Brahmaputra and attacked the Ahom kingdom and managed to occupy the capital of Ahom, Gargaon. Chilarai commanded his soldiers to fight both on land and through water. The defeated king finally fled with his army and Nara Narayan achieved victory. Later, a truce followed between them.

Nara Narayan defeated the king of Cachar and brought his kingdom under his rule. The king of Manipur surrendered as he decided not to combat with such a powerful ruler. Chilarai then attacked the states of Jayantia, Tripura and Sylhet. He defeated the kings in the battles and killed them. Observing the condition of the neighbouring states, the rulers of Khairam and Dimoriya submitted their petty states. Thus, with the help of Chilarai's heroism, Maharaja Nara Narayan extended his vast empire and earned revenues from several rulers.

In 1568 AD, another battle ensued when Nara Narayan attacked Gour, ruled by Soleman Karnani. But this time he had to face defeat as Kalapahar, the army commander captured Chilarai. Kalapahar with his soldiers then destroyed many temples including Kamakhya while he proceeded towards Tezpur. Much of the Koch kingdom was captured by the Afghans thereafter. However Chilarai and Naranarayan later rebuilt the Kamakhya temple that the Sultan's army had destroyed. They also patronized the great Vaishnavite movement of Sankardeva.

Nara Narayan attacked Gour for the second time when Akbar, the Mughal emperor sought help from him. They had an alliance with Sisya Singha Raikat and Debraj, the king of Bhutan while invading Gour. Chilarai captured Ghoraghat and seized the whole area of Gour. After defeating King Gourpasha, the kingdom was shared between Nara Narayan and Akbar. During the second invasion of Gour, Chilarai breathed his last on the banks of River Ganga as he suffered from small pox. Due to this the life of great commander-in-chief of assam who was ignored by Indian history come to end on 1577. Battles subsided. It was the courageous deeds of Chilarai that led the Koch kingdom reach the zenith.

Later, Nara Narayan divided his kingdom into two parts namely, Koch Bihar and Koch Hajo. He kept Koch Bihar, the western part under his authority while Koch Hajo, the eastern part was given to Raghudev, the son of Chilarai.

In 2005 Assam Goverment declared the birth anniversary of the great commander-in-chief as Bir Chilarai Divas and government of Assam has been conferring Bir Chilarai Award to he highest honour for bravery to individuals.
Photos of Bir Chilarai

Bir Chilarai