Natasurya Phani Sarma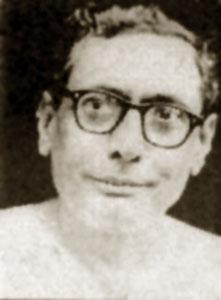 Born in 1910 at Tezpur, Phani Sarma was an was an Assamese theatre actor, playwright, film actor and director. His father name was Molan Sarma. His first movie was Jyoti Prasad Agarwalzs Jay mati in 1935. He acted and directed Siraj in 1948 with Bishnu Rabha and Pioli Phukan in 1955. He also memorably acted the lead in the films Piyali Phukan, as a legendary prince-turned-patriot.
His father Molan Sarma was also an exponent of drama and was a good actor of Ban Stage. So along with his father, Phani Sarma regularly went to the Ban Stage and closely observed the perfect acting of a number of veteran actors like Indreswar Borthakur, Dr Lalit Mohan Chowdhury, Prafulla Borua etc. This inspired young Bolin (as Phani Sarma was popularly known) towards acting and had a deep impact on his future life. The theatrical career of Phani Sarma started as a gatekeeper of the women's gallery of the prestigious Ban Stage situated at Tezpur. In 1928, he got the opportunity to act on the Ban Stage for the first time in the role of Akbar in the drama Rana Pratap. That was the beginning of a new chapter in the life of Phani Sarma.

Phani Sarma, Indian Theatre PersonalityPhani Sarma was a prominent figure of Assamese theatre. He was also a bright cinema actor, director, and playwright. Endowed with great physical presence, he was credited with the ability to virtually mesmerize audiences. Phani Sarma was one of the first professional actors in 1930 and also one of the first to act in cinema. He did a prominent role as the villain in Jyoti Prasad Agarwalzs Jay mati in 1935.

He wrote four successful full-length plays. Bhogjara i.e. 'Ceremonial Jug' in 1957 was one of the last and best Assamese historical plays. He did not deal with the usual patriotism but revolved around palace intrigue, adultery, and revenge. Sarma was unforgettable as the ugly king Lakshmi Singha.

An innate actor, Phani Sarma was a blazing star in the theatrical world of Assam. With his tall figure which was perfect for the stage and his sonorous voice, he captivated entire Assam by acting in more than a hundred dramas in different characters. People who once had the opportunity of seeing the acting of Phani Sarma either on stage or on screen could never forget it. He was most appropriately and accurately called Natasurya (the Sun of drama) by the people of Assam.

When the Bhramyaman Mancha or mobile theatre movement arrived, it lost no time in throwing open its doors to Sarma, who acted for it almost till the day he died. This legendary actor died in the year 1970.

Film career Of Natasurya Phani Sarma :

A) In 1933 Phani Sarma played a significant role in the first Assamese feature film Joymati directed by Jyoti Prasad Agarwala, where he played the role of the historical figure of Gathi Hazarika, the villain of the film. The notable acting of Phani Sarma in that role was a special feature of the film which was released in 1935, and Sarma went on the star in Agarwalla's second picture Indramalati.

B) In 1948 Sarma, along with Bishnu Rabha made a feature film Siraj, based on a popular short story written by Deshapran Lakshmidhar Sarma.

C) In 1955 he directed and starred in Pioli Phukan, also playing the films protagonist Pioli Phukan. His last film was Ito Sito Bahuto in 1963 where he appeared as an actor rather than taking the director's helm.