Kalaguru Bishnu Prasad Rabha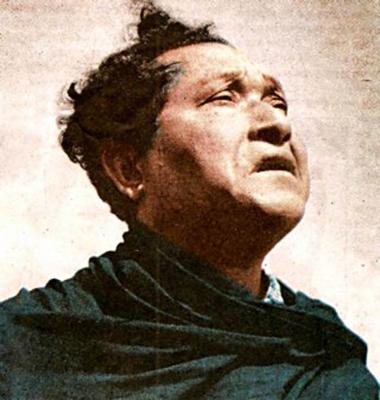 Born in Dhaka on 31 January 1909 Bishnu Prasad Rabha is one of the pioneers of Assamese music and art. A doyen of the Arts, he is popularly known as Kala Guru among assamese peoples. He was a multifaceted artist and revolutionary singer of Assam. His music, today, is known as 'Bishnu Rabha Sangeet'.
From an early stage, he played an active role in the struggle for Indian independence. He came to be influenced by left wing ideas and came close to the Communist Party of India. He dedicated his entire life for this freedom movement. His meaning of freedom however is not simply freedom from British rule. But it meant freedom from capitalism, freedom from wage-slavery, freedom from poverty and all social evils. In his own words, "I am fighting for a revolution from the realm of necessity to the realm of freedom". He was famous for his pioneering role as a socio- political revolutionary. He took part in armed revolutionary movement of Revolutionary Communist Party of India (RCPI) to liberate India from the yoke of the British and the local lords. He donated an ancestral estate of 2500 bigha land received from the British government in favour of the peasants. His beloved wife Kanaklata died of illness without proper treatment due to want of money. But uncompromised Rabha sticked to his principle. His slogan was "Haal Jaar Maati Taar" means "those who cultivate should own the land". The present day Tezpur University stands upon the land donated by him. His entire life was characterized by a restlessness to work for the people and he kept on moving around like a nomad. He was also an excellent mass mobiliser. His speeches and lectures could touch the heart of the masses. He was a true organiser of the people. His service in mobilising the rural masses during the freedom movement was really matchless. Only two other stalwarts, Sankar Barua and Jyoti Prasad Agarwalla came a bit near him in this regard. In 1951, after the death of Jyoti Prasad Agarwala, he became the president of the Assam branch of Indian People's Theatre Association (IPTA). However, his political struggle was never pregnant with individual power seeking motive. It was only given power at the hands of the masses. In his political life, Bishnu Rabha participated in parliamentary politics also. He was elected an M.L.A for a term in 1969 from Tezpur.

He was connected very closely with the theatre movement in Assam. There have been many live performances at the Ban Theatre in Tezpur, which is famously connected to Bishnu Rabha. This theatre (Ban Stage) where many of Bishnu Rabha's plays have been staged is designed by renowned architect Mr. Upendra Kr. Baruah. He was an actor of eminence both in the stage and celluloid. He was also recognized as a film director, music composer (Siraj) and actor (Era Bator Sur). He was an actor par excellence. In celluloid, Bishnu Prasad Rabha was memorable in Syem's role in Bhupen Hazarika's 'Pratidhwani'. But, he never used this talent for commercial purpose. In spite of having very good rapport with the art world of Kolkata and Bombay, he never left Assam to achieve commercial success in the field of acting. Rather he used his talent to educate the masses. This talent also helped him to move around in disguise during his days of struggle. He also assisted in making of the first Assamese film Jaymati, by Jyoti Prasad Agarwala. He was also a recognized film director.

Bishnu Prasad was a versatile genius. His dancing prowess mesmerised the audience. He was bestowed the title Kalaguru by Sarvepalli Radhakrishnan at Varanashi following a recital of the Tandava dance there. He was the embodiment of Nataraja, the heritage of Assam. Incidentally, the concept of Nataraja was a contribution of Assam to Indian civilisation. Till date there has not been a better exponent than Bishnu Prasad of the Tandava dance. Even Uday Shankar was fascinated by his recital and wanted to learn the same from him. The concept of Tandava was as if ingrained in Bishnu Prasad. He wanted to demolish everything bad in the society, which was the message of Tandava dance. Bishnu Rabha was known for his music and acting in the films like Siraj and Era Bator Sur. He is today remembered for his evergreen songs like 'Xurore Deulore' or 'Bilote Halise'.

He was a serious academician too. In fact he was the first anthropologist of Assam. His book Bano-Kobang is a nice work of anthropological study based on field work. The observations as well as materials compiled therein remain invaluable source of information about the ethnic groups in this State. He wrote several books of great values. This aspect of Bishnu Prasad has largely been ignored by the conventional scholars and the public get to know him only as a performing artiste. This is because most of his writings were published only posthumously and they were ignored by the mainstream critics of Assam. But ultimately Bishnu Prasad, along with Jouti Prasad are remembered as the symbol of Assamese culture though during their life time they were ignore by intellegencia! His other works include Mising Coneng, Sonpahi, Axomiya Kristir Samuh Abhash, and Atit Asom.

Apart from being a well-known poet, dramatist, musician, dancer and actor from Assam, Bishnuprasad Rabha owns great pride in fact in being an eminent fighter of Assam too. Sonpahi, Asomiya Krishtir Somu Aabhas, Mishing Koneng, etc are some of his literary works displaying his extreme talent and calibre. A genius, with revolutionary ideas and a bohemian lifestyle, constantly mingling with the people at the grassroots is how Bishnuprasad can be ideally described. Bishnuprasad also composed a number of songs which are now known as 'Rabha Sangeet' and have become popular as 'Kalaguru'. It is indeed worth mentioning that most of the cultural music competitions of Assam feature Rabha Sangeet that is related to Bishnuprasad's compositions, lyrics and verse. He is deeply respected for his work in that the state government of India has also instituted an award in his honour for achievements in the cultural/music world of Assam

Bishnu Rabha passed away in 1969. He laid his life for Assam, for it's people. His contributions to the whole Assamese society will be remembered forever. 20th June of every year is celebrated as 'Bishnu Rabha Divash' in Assam commemorate this great personality of Assam.

Kalaguru Bishnu Rabha Bota : There is an award given in his honour for achievements in the cultural/music world of Assam by the state government.

The Bishnu Rabha Smriti Udyan has been set up as a memorial park in his honour. It is located on the banks of the Brahmaputra near Tezpur in a plot adjacent to the Bhairabi temple. The park is a result of the hard work of his middle son Mr. Hemraj Rabha who took the initiative to pay tribute to his father and started the construction
Photos of Kalaguru Bishnu Prasad Rabha

Kalaguru Bishnu...

Kalaguru Bishnu...

Kalaguru Bishnu...