Dr Mamoni Raisom Goswami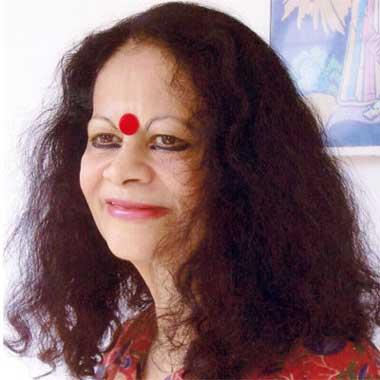 Indira Goswami (14 November 1942-29 November 2011) also known as Mamoni Raisom Goswami and among assamese popularly known as Mamoni Baideo was an great Assamese editor, poet, professor, scholar and writer. The Jnanpith award winning Assamese litterateur Indira Raisom Goswami was born Indira Goswami to a Brahmin family in Guwahati, Assam. Her father is Umakanta Goswami and mother is Ambika Devi. She studied her primary school in Latashil primary scool, Guwahati and Pine Mount School in Shillong, which was the capital of undivided Assam. She passed her H.S.L.C from Tarini Charan Girls School in 1957. She later majored in Assamese literature at Cotton College in Guwahati.
Mamoni Raisom Goswami was encouraged by Kirti Nath Hazarika who published her first short stories — when she was still in Class VIII (thirteen years old) — in a literary journal he edited. After thst she didnt look back.

She is also well known for her attempts to structure social change.Mamoni Raisom Goswami has suffered from depression since her childhood. In the opening pages of her autobiography, The Unfinished Autobiography, she mentions her inclination to jump into the Crinoline Falls located near their house in Shillong. Repeated suicide attempts marred her youth. After the sudden death of her husband, Madhaven Raisom Ayengar, in a car accident in the Kashmir region of India, after only eighteen months of marriage, she became addicted to heavy doses of sleeping tablets. Once brought back to Assam, she joined the Goalpara Sainik School as a teacher and after that come to Vrindavan, Uttar Pradesh, and pursue research for peace of mind.

At this point she went back to writing. She claims that she wrote just to live and that otherwise it would not have been possible for her to go on living. Goswami's writings focused on the suffering of the disadvantaged section of society. She understood the joy and pathos of the common people. Her experiences in Kashmir and Madhya Pradesh, an Indian state where her husband had worked as an engineer, was used in her novels Ahiron and The Chehnab's Current, respectively.

She championed the cause of women throughout her career. Brought up in a conservative Brahmin family, Goswami never stuck to the diktat of social norms, — be it while marrying someone out of the community, or in the way she wrote.

In The Saga of South Kamrup, originally called Une Khowa Howda in Assamese, she chronicles the saga of a young Brahmin widow Giribala who, since the death of her husband, had eaten only rice and boiled pulses and now shocks the society by eating meat surreptitiously.

After relocating to Delhi, to become Head of Assamese Department at the University of Delhi, the most glorious phases of her life begins. While at the university, she wrote most of her greatest works. Several short stories, including Hridoy, Nangoth Sohor, Borofor Rani, used Delhi as the background.

Her two classics — Pages Stained With Blood and The Moth Eaten Howdah of a Tusker— were also written during this period. The other books completed while she lived in Delhi were Ahiron,The Rusted Sword, Uday Bhanu, Dasharathi's Steps and The Man from Chinnamasta.

She was the mediator between the banned secessionist group United Liberation Front of Asom and the central government of India. Her involvement led to the formation of the People's Consultative Group, a peace committee. She refers to herself an "observer" of the ongoing peace process rather than a mediator or initiator. She played the role of a peace negotiator in the ULFA-government peace talk. Later, ULFA elected her as the PCG member.

She received the Sahitya Akademi Award (1982). She received the Jnanpith Award (2000), India's highest literary award, for writing about the subalterns and marginalised. Two of the main features in Goswami's writing has been the focus on women and the cultural and political construct of the Assamese society. However, it is also to her credit that she also created possibly one of the finest male characters in contemporary Assamese literature, viz. the character of Indranath in Datal Hantir Une Khowa Howdah (The Moth Eaten Howdah of a Tusker).Her contribution in the Assamese feminist literature is self evident in this work.She takes up the issue of patriarchy existing within Assamese Brahmin families with an illustration taken from a small place in Assam known as Amranga,Borihat.This work is also encrusted with a post-colonial tinge in it as we see the mimicry of the colonizers among the colonised.

Jnanpith award winning Assamese litterateur Indira Raisom Goswami, who was 70, died on 29th Nov,2011 after prolonged illness. She was in hospital for several months.


Novels by Mamoni Raisom Goswami

1) Ahiron (1980) (Bani Prakash)

2) Budhasagar, Dhushar Geisa aru Mohammad Mucha (The Budha Sea, Hazy Geishas and Mohammad Mucha)

3) Chinavar Srota (The Chenab's Current) (1972) (Lawyers Book Stall)

4) Chinnamastar Manuhto (The Man from Chinnamasta)

5) Dashorothir Khuj (Dashorothi's Footsteps)

6) Datal Hatir Une Khowa Howda (The Moth Eaten Howdah of a Tusker) (Bani Prakash)

7) Mamore Dhora Tarowal aru Dukhon Uponyas (The Rusted Sword and Two Other Novels) (1980) (Saraight Printers)

8) Nangoth Sohor

9) Budhosagor Dhukhor Geisha Aru Mohammed Musa

10) Nilakanthi Braja (The Blue-Necked Braja) (1976) (Lawyers Book Stall)

11) Ekonshor Dostabej

12) Shadow Of The Dark God (1986) (Sikkim Publisers, Delhi)

13) Tej Aru Dhulire Dhusarita Prishtha (Pages Stained With Blood)

14) Udaybhanur Choritro (Udaybhanu) (1986) (Bhoomi Publishing Co.)


Autobiography by Mamoni Raisom Goswami

1) An Unfinished Autobiography

Short stories by Mamoni Raisom Goswami

1) Beasts

2) Dwarka and His Gun

3) Parasu's Well

4) The Journey

5) Sanskar

6) To Break a Begging Bowl

7) Udang Bakach

Poetry collection by Mamoni Raisom Goswami

1) Pain and Flesh

Others writng by Mamoni Raisom Goswami

1) Ramayana from Ganga to Brahmaputra, Delhi 1996. (Research work on Kotha Ramayana)

Awards received By Mamoni Raisom Goswami

I) 1982 — Sahitya Akademi Award (for Mamore Dhora Tarowal)

II) 1988 — Asam Sahitya Sabha Award

III) 1989 — Bharat Nirman Award

IV) 1992 — Sauhardya Award of Uttar Pradesh Hindi Sansthan of Government of India.

IV) 1993 — Katha National Award for Literature

V) 1996 — Kamal Kumari Foundation National Award in 1996

VI) 2000 — Jnanpith Award

VII) 2002 — D Litt Degree from Rabindra Bharati University, West Bengal

VIII)2002 — Mahiyoshi Jaymati Award with a citation in gold by Ahom Court of Assam

IX) 2002 — Padma Shri (She refused to accept)

X) 2007 — D Litt Degree from Rajiv Gandhi University Arunachal Pradesh

XI) 2008 — D Litt Degree from Indira Gandhi National Open University

XII) 2008 — Iswar Chandra Vidyasagar Gold Plate from Asiatic Society

XIII)2008 — Principal Prince Claus Award

XIV) 2009 — Krishnakanta Handique Award, Asom Sahitya Sabha

XV) Awarded the Ambassador for Peace from the Inter Religious and International Federation for World Peace

XVI) The International Tulsi Award from Florida International University for her book, Ramayana From Ganga To Brahmaputra