Padmanath Gohain Baruah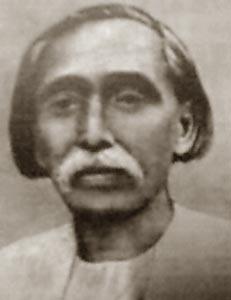 The first president of Asom Sahitya Sabha held in Sivasagar in 1917 Padmanath Gohain Baruah was born in 24 October, 1871, North Lakhimpur. From childhood he was very bright and also interested in multiple fields. Padmanath Gohain Barooah was the founder-secretary of the historical Baan Stage, at Tezpur in central Assam.
The school education of Padmanath started in a Bengali medium school at his birthplace Nakari near North Lakhimpur town. Following the advice of a section of people the British government introduced Bengali as a medium of instructions in the schools of Assam replacing Assamese in 1836. After relentless effort of a number of nationalist leaders Assamese was reinstated in 1872. But want of textbooks created another problem in Assamese medium schools of the State. To solve the problem Padmanath with his friend Panindranath Gogoi wrote a number of textbooks in Assamese language. But untimely death of Panindranath led Padmanath to complete the mission alone. To meet the necessities of the Assamese students and teachers he wrote a number of textbooks on history, geography, moral science, teachers hand book and a book on physical exercise including life and works of many stalwarts of Assamese Society. He also edited Jivani Sangrah, a rare book in Assamese literature.

Padmanath was one of the brightest students who went to Kolkata in the last part of the 19th century to pursue higher study. There he became an active member of Asomiya Bhasar Unnati Sadhini Sabha, set up by a number of Assamese students for the uplift of Assamese language and literature. Due to his ill luck he could not complete his BA examination but there he learnt the lesson of nationalism. Returning home he dedicated himself for the uplift of his mothertongue and wrote a number of books in various styles and forms.

Padmanath left an indelible imprint on Assamese literary world as a founder of modern Assamese novel. His novel Lahori, published in 1892 is regarded as the first Assamese novel. Though a number of his predecessors wrote few novels in Assamese but from literary point of view Lahori is regarded as the first Assamese novel. Taking a glorious chapter of Assam history he wrote another novel Bhanumoti first published serially in Bijulee, a monthly magazine edited by Krishnaprasad Duwara. He also proved his dexterity as a poet and Lila kabya, Jurani, Phular Saneki bore testimony to his calibre.

As a playwright Padmanath was comparable to none in Assamese drama and theatre. He wrote a number of dramas on local plots and events. Picking up a number of glorious chapters from Assam history he wrote historical dramas like Joymoti, Gadadhar, Lachit Borphukan and Sadhani. On the basis of the legendary love story of Usha and Aniruddha he wrote a mythological drama called Ban Raja. In his social drama Gaonburha he neatly described the economic condition of Assamese people under the British rule. His comedy Teton Tamuli and Bhoot Ne Bhram created spontaneous overflow of laughter among the readers and audiences.

In 1901 he with Joydev Sarma published a weekly called Asom Banti from Tezpur. At a most critical period Asom Banti played a leading role in Assamese language and literature. Acting as a mouthpiece of Assamese society it brought to the focus many important issues to the British government. In 1906 Gohain Baruah published a monthly called Usha. Many stalwarts like Hemchandra Goswami, Satyanath Bora, Sarat Chandra Goswami etc. regularly wrote in the magazine that heralded a new era in Assamese literature.

He died in 7 April, 1946. Various notable literary works by Padmanath Gohain Baruah :

Poetry collections of Padmanath Gohain Baruah

I) Juroni

II) Lila Kabya

III)Phoolor Chaneki

Dramas by Padmanath Gohain Baruah

I) Gaonburha

II) Joymoti

III) Godadhor,

IV) Bhut Ne Bhrom;


Novels by Padmanath Gohain Baruah

I) Lahori

II) Bhanumoti etc.