Rupkonwar Jyoti Prasad Agarwala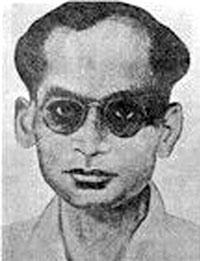 Jyoti Prasad Agarwala, the first film maker of Assam who is belonged to Marwar of Rajasthan did so much for his birthplace Assam that there are hardly few other names in Assam which come close to his level. He is no one but Jyoti Prasad Agrawala. Jyoti Prasad Agarwala was a true Assamese in heart. He is the "Rupkonwar" of Assam. Forefather of Rupkonwar who hed came to Assam from rajasthan in the year 1811. Songwriter and poet Jyoti Prasad Agarwala's death anniversary (January 17) is celebrated as "Silpi Divas" in Assam in his honour.
Rupkonwar Jyoti Prasad Agarwala was the great writer of Assam, who had written different types Dramas, Poems, Songs, Films. He is an Assamese cultural icon, deeply revered for his creative vision and output and is popularly called the "Rupkonwar" of Assamese culture. Jyoti Prasad Agarwala was born in 17 June, 1903 in Tamulbari Tea Estate of Dibrugarh. His father was Paramanada Agarwala and mother was Kiranmayee. He started his education from Tezpur Government High School and completed matriculation in the year 1921. During his school time itself he joined the freedom movement. After matriculation he joined National College of Calcutta and completed his I.A. In the year 1926, he went to Edinburgh University, Britain for study in economics. He also joined M.A but before finishing it he came to Germany. After his seven months at UFA studio in Germany for learning in Film Making. He came back to Assam in 1930.

He dedicated himself fully in the freedom movement. He was even jailed for 15 months and fined Rupees 500 for his active involvement in the fightings of Independence.

Jyoti Prasad Agarwala started writing since the age of 14 years only. At that time, along with 'Kalaguru' Bishnu Prasad Rabha, he wrote down the famous play "Sonit-Konwari" and "Joymoti" . Jyoti Prasad Agarwala established the Chitraban Studio at the Bholaguri Tea Estate in Tezpur in 1934 and began his film making career, the first Assamese movie, "Joymoti" in the year 1935. Rupkonwar Jyoti Prasad Agarwala became the first film maker of Assam. He also setup a cinema hall "Junaki" in tezpur in 1937. He made the second Assamese movie "Indramalati" in the year 1939. Another contribution of Jyotiprasad agarwala republished "Asomiya" which was a closed down newspaper since 1944 (for seven month).

Jyoti Prasad Agarwala was a fantastic poet as well. He wrote more than 300 songs and gave music to most of them. These songs collection is known as Jyoti Sangeet. It bacame a new genre of music itself in Assam in later days.

He wrote many stories for children. Some other plays written by him are Rupalim, Karengar Ligiri, Lobhita, etc.

In the year 1936 he got married. His wife's name is Devajani Bhuyan who helped him through out his life. Just an age of 48, he was suffering from cancer and he died on 17 January, 1951.

In 1961, the government mooted the idea of establishing a public sector studio, the first of its kind in India, on the outskirts of Guwahati in Jyotiprasad's memory. The studio was named Jyoti Chitrabon Studio.
Photos of Rupkonwar Jyoti Prasad Agarwala

Rupkonwar Jyoti...