Chaklang - Traditional Ahom Marriage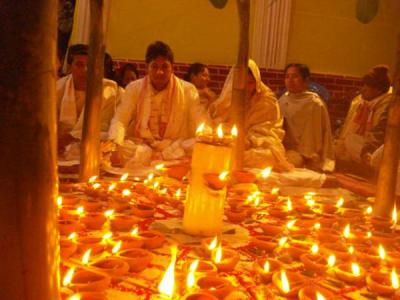 The Assamese culture is full of varieties. Various communities and their traditions have made this place a garden with a mixture of colorful flowers. So, there is no end to the rituals and customs in the social festivals. Even the marriage system in the Assamese culture is found to be practiced in different ways in various places. In Assam, marriage is being termed as "biya" and there is a particular way of celebrating this heavenly relation between the "dora" (groom) and "koyna" (bride). This very special tradition of marriage is known as "chaklang" in the Ahom community.
The Ahom marriage by chak-lang, the original system is another instrumentality by which the Ahom maintain their social coherence. "The real Ahom rite is the saklang", writes P. R. Gurdon in Encyclopaedia of Religion & Ethics( Vol I, p. 235). In the chak-long marriage, the Ahom priest normally recounts the family trees and great deeds of forefather of both families to the new couple thus reminding them of their past history.


In a judgement of the Hon'ble High Court of Gauhati gave recognition to the chak-long as the customary Ahom marriage system. Marriage by Homa or saptapadi ceremony before the sacred fire is unknown to the Ahom even to this day. Except a section of the Ahom, others perform Chak-long marriage.


It is being considered as a social custom to be practiced by all Ahoms and is being noticed to be practiced since the days of the Ahom kings. As an instance Swargadev Rajeswar Singha's marriage with the Manipuri Princess Kuranganayani can be mentioned. If the origin of this custom is being traced then it has to be mentioned that it first started when Lengdon got married with the eldest daughter of Ak-Kai-Mo-Hung, Nang-Hun-Hpa. The matrimonial process started when Lengdon sent a present of honor containing betel leaves and Areca nuts, clipped on both ends by being decorated on Sarai (a kind of platters with stands). Also, this whole gift was being covered by hand made red towels. So, this was the beginning of the Chaklang custom.
Photos of Chaklang - Traditional Ahom Marriage

Chaklang - Trad...

Chaklang - Trad...

Chaklang - Trad...

Chaklang - Trad...

Chaklang - Trad...

More Photos